Six months ago, we moved into a new house. Plano, TX has some amazing parks, and my friends and I make good use of them—we regularly fly our FPV racing quadcopters at these parks. There are miles of bike trails running through those parks, and those bike trails go right past some of our favorite flying spots. Best of all, those bike trails are now just a few hundred feet from our new house!
I thought I had a brilliant idea—I needed to buy a bike. Then I remembered that I live in Texas. In July, it is 105 degrees outside most days. When we go out flying in that kind of weather, I'm ready to pack up and get back in the car before I finish flying my first battery. Did I really want to pedal a bike for a couple of miles, get all sweaty and sticky, and then start flying drones?
I think I'm too old to learn to ride an electric skateboard, so I started researching electric scooters. I had my eye on box the Xiaomi M365 and the Razor E300 electric scooters. The Xiaomi scooter is the better of these two scooters, but it costs about twice as much as a Razor. I guess these sorts of contraptions are referred to as kick scooters, but these two don't require the kicking.
Then my friend Brian noticed that meh.com has selling the Hover-1 XLS scooter for $550—about $300 off the usual price. Until then, I wasn't in a hurry to choose a scooter, but deals at meh.com are only good for 24 hours!
The Hover-1 XLS weighs twice as much as the Xiaomi, but it also has a higher advertised top speed and range. I didn't think the weight would be a big deal—I can count on one hand the number of times I've loaded the XLS into a car. I thought the additional range might come in handy, and having a seat seems like a bonus. Both upgrades seemed worth the extra $100.
You probably already guessed that I wound up buying the Hover-1 XLS scooter from meh.com.
Where do you use a scooter like this?
Not on the road, that's for sure. At least not around here. My neighborhood is surrounded by a trio six-lane roads to the north, south, and west. To the east, there's a busy two-lane road. I wouldn't ride anything like a bike on any of those busy streets.
I'm getting a lot of mileage just using the nearby bike trails. I ride out to the park almost every day to fly. The two most common spots that I fly aren't far away. One is a 1.5 mile round trip, the other is less than half that distance.
One of those spots can't be reached by car. If we drove, we'd have to walk at least 1,500 feet. That's at least five minutes of walking while carrying all our gear—my backpack full of drone gear is nearly 30 pounds! None of us want to walk. We want to fly—we do enough walking when we crash.
Does the Hover-1 XLS really have a 15 mile range?
Not in my experience. One day, I decided to see just how far my city's bike trails actually go. The maps around the park claim there are six or seven miles worth of trails. I didn't take a direct route, though. I explored several dead ends, and I didn't start with a full battery—I had taken a 1.5 mile trip from the day before, and I didn't charge the battery.
I crossed under a highway about six miles into my journey. When I looked up, I could see the sign stating that the folks heading north were about to cross into the next city. The path crossed underneath the freeway, and I was able to follow the path south for about a quarter mile. That's when I decided to turn around to head home—I hadn't even flown any of my quads yet!
I made it another two or three miles before I ran out of battery. I was surprised, because the display claimed I still had nearly half my battery remaining. I had to push the bike nearly half a mile and wait for my wife to come pick me up. It was 98 degrees outside that day. Pushing this bike in the sun was not fun! Especially since I was hunched over the handlebars while being weighed down by my heavy backpack.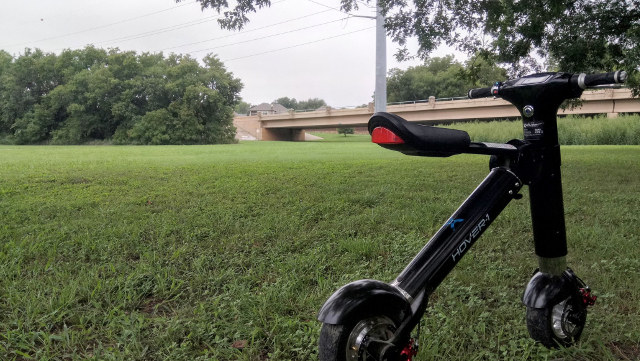 I don't know for certain how far I rode on that charge. The trip odometer automatically resets when you turn off the bike, and I stopped to wander around off the trail several times. Before stopping the first time, though, I subtracted the current reading of the trip odometer from the main odometer, so I was able to do some math when I got home.
I rode 7.6 miles that day. Adding the 1.5 mile trip from the previous day puts my total at 9.1 miles. There's a slim chance that I had not just one 1.5 mile trip already logged on that charger, but I don't believe that I did, and I have no plans to repeat this process to find out for sure!
I'm heavy, and the Hover-1 XLS hates hills
I'm about 6' tall and 220 pounds. I had to pack light the day I ran out of juice—my backpack was only 12 pounds.
I grew up in a rather hilly city in Pennsylvania. When I was a kid, riding away from my house on my dirt bike was awesome—it was all down hill! Riding back up the hill to repeat the fun was an arduous task. When I was small, I was barely heavy enough to exert enough force to push the pedal down when trying to get back up that hill. Even when I got bigger, that hill was still tiresome.
Eight-year-old me would consider the entirety of my local bike trail to be quite flat. The Hover-1 XLS disagrees.
On flat ground, I have no trouble riding at 17 or 18 miles per hour. On much of my nine mile journey, though, I was lucky to reach 12 miles per hour at full throttle. The inclines weren't all that steep, but it took everything the Hover-1 had just to keep going.
I bet it is possible to reach 15 miles with the Hover-1 XLS, but I never will. I'm at full throttle more often than not. I might be able to manage ten of my usual 1.5 mile round trips on a single charge if I keep the speed more reasonable, but I have no intention of trying.
Is the Hover-1 XLS worth $500?
If you live somewhere hilly, you won't be able to use it at all. If I rode my Hover-1 XLS away from my parents' old house in Scranton, I would have to push it home. It would never have enough power to make it up that hill. I'd also be terrified going down that hill. The brakes on the Hover-1 XLS work reasonably well—especially after adjusting them, but they aren't spectacular.
UPDATE: The brakes on the Hover-1 XLS are pretty bad. My front brake caliper failed, but that might have been my fault. I wound up replacing both calipers on my Hover-1 XLS with simple mechanical calipers made by Shimano. They're less than $20 each, and they stop the scooter so much better. It is like night and day!
You may be a braver soul than I am, but I would never ride this thing on roads with any sort of traffic. Then again, I wouldn't ride any sort of bike on those same roads, so I may not have the best opinion here.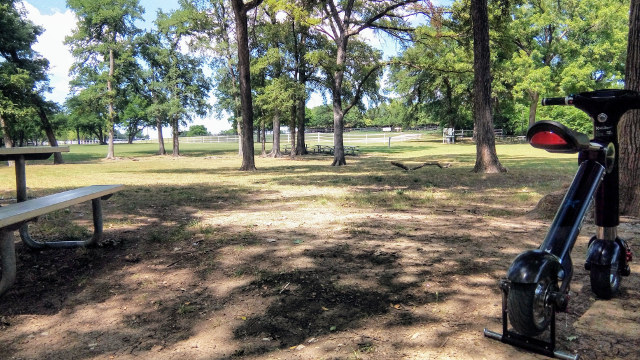 So far, the Hover-1 XLS is shaping up to be a good investment for me. I haven't been keeping a log of my journeys, so I've just done some simple math. I have put a little over 100 miles on my bike so far, and my most common journey is a 1.5 mile round trip. I've made a few longer journeys, but I often take it to a spot that's not more than a quarter mile away. My average journey may not actually me 1.5 miles, but I'm going to assume it is for simplicity's sake.
As of today, each trip to go flying at the park has cost me about $7.50. If I continue to go to the park five days each week, that cost will be down to about $4.00 per trip by the end of the year. By this time next year, I'll be under $2 per trip. Will the bike survive that long? Only time will tell.
Money is only part of the value
Things were different when I had to drive a car to the park. If I only had time to fly one or two batteries, I wouldn't bother going out. I didn't want to load up the car, drive to the park, walk to some shade, and unpack all my stuff for just ten or fifteen minutes of flying.
Hopping on the bike feels a lot quicker and more efficient. Once I pick up my backpack and start heading for the garage, I know I'll be at the park powering down my bike in about five minutes. I don't think it actually takes much longer when driving, but it feels like a much bigger task.
It is unlikely that I would actually take my quadcopters to the park every day if I had to drive.
That's not the only advantage, though. I'm flying at new spots that I would never bother to walk to. There's a small field with a few trees less than 500 feet from my house. If I were driving, I would never fly in this field—it is too boring for that kind of effort.
It is an awesome spot to ride the e-bike to, especially on a hot day. The bike path goes under a bridge. I can set up my chair under the bridge where there's a lot of shade. There's no grass under there, so there aren't as many bugs, either. It works out great if I just want to fly a few quick batteries.
There's another spot I fly that is nearly two miles away on my e-bike. It is a fantastic little parking lot for flying micro quads. It is awesome, because the parking lot is closed most of the time, so there are never any cars there. If we wanted to drive there, we'd have to park over a quarter of a mile away.
I wouldn't fly there if I had to drive!
What about electric kick scooters and skateboards?
My friend Alex has a Meepo electric skareboard, and he wrote an excellent review of it. The Meepo is smaller, lighter, and faster than my Hover-1 bike. Its advertised range is lower, but I bet Meepo's estimate is more conservative.
I am over 40 years old now. I've never had a skateboard. When I was a kid, we all had BMX-style bikes, and we were constantly outside riding them when it wasn't raining or snowing. I'm comfortable riding a bike. I'd be comfortable riding a kick scooter. I don't think I should attempt to learn to ride a skateboard.
Loading the Hover-1 e-bike into a car is a pain. 50 pounds doesn't sound heavy, but when it is folded the shape and weight distribution make it rather unwieldy. It won't fit in the trunk of a small car, so you end up having to slide it into the back seat. That means you've got to push it in while leaning way over in an attempt to take weight off the far end so that it will slide—not ideal at all.
A skateboard would be so much easier. I could pick it up and carry it short distances. I could throw it in the trunk without any real effort.
A kick scooter, like the Xiaomi M365 would have been a good compromise for me. It would be half the weight of my Hover-1 XLS, and much easier to hoist into our little SUV. I don't need the extra potential range or speed of my Hover-1 XLS—most of my trips are less than a mile away.
If you had to do it over, would you buy the Hover-1 XLS again?
I think I would make that choice again, but I'd be tempted by the lighter, cheaper, smaller Xiaomi M365. The Hover-1 XLS has serve me well so far, and I think it will continue to do a good job into the future.
My wife just bought a 21-speed bike. A regular bike with manual pedals. It isn't anything fancy—just one of the cheapest hybrid bikes we could find on Amazon. If she sticks with it, we'll know what features are important to her, and then we can invest in the right bike. For now, this will do.
I followed her on my Hover-1 XLS the first time she went out. The first thing I noticed was how slowly we were moving. I'm used to cruising along the bike path at 15 miles per hour, but we weren't even going half that speed most of the time.
I took her bike for a test drive. The e-bike definitely has me spoiled. Pedaling was so much more work! It doesn't help that her bike is set up for someone a full twelve inches shorter than I am. I only rode a little over a mile, and my knees were unhappy—they have to bend quite far when the seat is so low!
I'm definitely happier with my electric bike. I say the same thing all the time. I don't want to be tired and sweaty before I arrive at a flying spot with my quadcopters. I'd also prefer not to have to pedal my way home after walking a mile in the hot Texas sun searching for crashed drones. Some days I end up crashing a lot!
Conclusion
Sometimes I buy a new toy, gadget, or tool, and I immediately tell everyone I know that they have to get one. If they're exciting enough, I'll start giving them as gifts right away. The Hover-1 XLS folding scooter isn't one of those toys.
Don't get me wrong. I'm happy with my purchase. It meets my needs, and I use it almost every day. I started writing this post when the scooter had just short of 100 miles on it. Today, it has over 120. It just isn't perfect.
The brakes aren't great, even after adjusting them. It is a bit too heavy. Its range is good enough most of the time, but I'd like more. At around $500, though, the price is just about right for what you get, but I feel like they could have equipped it with better brake hardware at this price point.
Do you have a Hover-1 XLS or Xiaomi M365 scooter? What do you think of it? Do you prefer some other mode of electric transportation? Tell me about it in the comments!