About four months ago, Brian Moses and I started another blog. We decided that this was a good idea almost two years ago, but life and procrastination got in the way. Near the end of April, I said to hell with waiting and planning. I decided I was just going to stand up a nearly empty, completely undecorated Jekyll site.
That right there is the most important piece of blogging advice I could give anyone. Stop waiting. Write something now. Post it on the Internet. It doesn't matter what it looks like. It doesn't matter if your theme is perfect. It doesn't matter what blog engine or theme you choose. The sooner you post your words, the sooner Google will find them, and the sooner people will start reading them!
What were our plans for Butter, What?!
I think I covered out plan pretty well on the first blog I posted on Butter, What?!, but I can cover the basics in a short paragraph or two.
We wanted a place to post content that just wouldn't fit on patshead.com or briancmoses.com. Just about everything I've ever written on patshead.com has involved some amount of research or testing, and some sort of value that I've personally added to the topic.
I wanted a place where I can just write a paragraph or two simply explaining why I think something is interesting or cool, and then give you links to the content.
We also wanted a place where we can collaborate, and not just with each other. Brian and I also want to collaborate with other bloggers and content creators, and we want to use whatever social media and Google search clout that we might have to help promote other people that are doing interesting things.
A rising tide raises all ships
Maybe there's a limit to just how much love Google search will give patshead.com and briancmoses.com. Ever since Google started shifting their search results more heavily towards YouTube videos and gigantic websites, our traffic has taken quite a hit. I've been hovering at right around half the traffic I used to see roughly two years ago. I don't want you to think I'm unhappy about this, but I'm certainly not excited about it!
If Brian and I split off some of our time to write content for Butter, What?!, would we see less traffic on our own blogs? Would Butter, What?! drive some traffic back in our direction, or will it just be a one-way street leading out of our sites and into Butter, What?!
A rising tide raises all ships. At least, that's what we are hoping. Butter, What?! is just getting out of its infancy stage, but it seems to be working. The traffic at patshead.com isn't dropping, and I'm seeing a trickle of traffic coming to patshead.com from Butter, What?!
Here's a real piece of data. According to Matomo, I saw 53 confirmed visits referred from Butter, What?! in August. Any of my blog posts that rank between my top 30 and 40 would see roughly as much traffic. This is definitely a good start!
Our real goal is to help more than just our two old ships and the S.S. Butter, What?! Now that Google is starting to notice us, it might be time to start reaching out to other bloggers!
I remember when I started blogging at patshead.com
I bought patshead.com right around the turn of the century. For a decade, just about the only thing on the site was the animated gif of my spinning head. In 2009, I started blogging and set up Google Analytics. In 2012, I switched from Google Analytics to Piwik, then sometime later the open-source Piwik project changed its name to Matomo.
In the early days of my blog, I was excited when I saw 10 visits in a day. When I would write a new post, I would double or triple my page views for the day just by Googling my own site to find URLs to include in my new blog post. About a year later, I was seeing 50 visits each day, and I was no longer capable of significantly skewing my own reporting.
I don't have easy access to all my historical data, but I remember that for a long time my search traffic was doubling every six months. It wasn't a steady rise, though. It would be pretty level most of the time, then it would suddenly take a jump towards bigger and better numbers. Brian's results were similar, and it took quite a while for this to plateau.
We're at the point today where the traffic graphs for Butter, What?! are looking like a hockey stick. We don't have a ton of content written yet, so I expect we're nearing our first plateau, but we don't know for sure!
How much traffic is Butter, What?! seeing?
The new blog went up on May 2, 2019. Traffic from Google was pretty much a dial tone until the middle of July. Until then, nearly 100% of the traffic to Butter, What?! was a result of our tweets, Facebook posts, and links from our existing blogs.
Traffic from Google was still extremely tiny in July, but it was finally a steady trickle. Before the month was over, we were seeing 10 clicks per day from Google search.

I started to get excited at the beginning of August. Butter, What?! had almost twice as many search clicks in the last week of July as it had the entirety of the previous three months. I was excited, even though we only saw 60 clicks that week. I was excited, because the numbers were still growing every week.
Today, we're seeing 30 to 40 search clicks per day, and it looks like that number is still increasing.
August was the first month that Butter, What?! broke 1,000 visits. We had more visits referred from Google search in August than we had total visits in July: 686 vs. 581. August was exciting!
The quality of traffic is better than I expected!
Brian and I are always looking at metrics like average visit duration and average time on page. Visit duration tends to be higher when you have a lot of relevant and related content. Google might point you at patshead.com, because you're interested in my virtual machine host. Then you might see my blog about my 20 gigabit-per-second Infiniband setup, so you'll stick around to read that.
Butter, What?! is young. It doesn't have a ton of content. A lot of the content that it does have is designed to point you towards other content, like those YouTube videos I post every Monday. I expected we'd see a lot of short visits, but that hasn't been the case.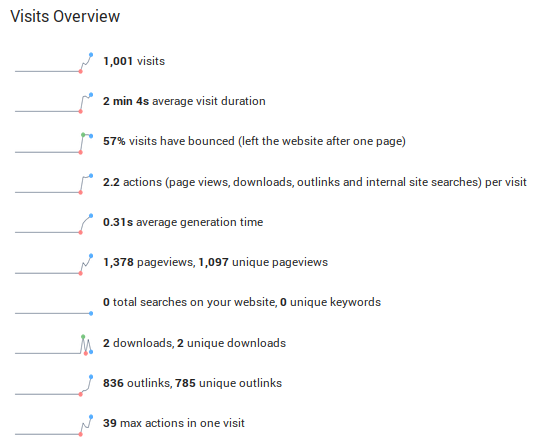 I haven't checked Brian's Matomo data, but most days, Butter, What?! has an average visit duration nearly double what I'm seeing on patshead.com!
I imagine that has more to do with patshead.com having over 300 articles, and most of those posts are getting quite old. If you manage to click on a blog post about an old Android phone that I owned 5 years ago, you probably got here by mistake, right? You're going to leave quickly!
Our old blogs also do a much better job of making our other content available to our readers: recent posts are listed in the sidebar and related posts are listed at the end of a post. Butter, What?! doesn't have any of that yet, and this is another reason that I'm surprised that our time on site has been so high and our bounce rate has been so low.
Traffic is light, but not insignificant!
If this were 2016, the 1,001 visits Butter, What?! had in August would have felt completely inconsequential to me. It isn't 2016 anymore. Brian and I have had our search traffic drop by nearly 50% since then.
Those 1,001 visits are right around 4% of the combined traffic of patshead.com and briancmoses.com. Even if things don't improve, the search traffic alone from Butter, What?! will account for 5% of our total traffic in September.
If Butter, What?! accounts for 10% of our traffic by the end of the year, I will be quite pleased with our efforts!
What will next month look like?
If search traffic levels off, then September will compare to August in much the same way that August compared to July. We'll see more search clicks in September than we saw total visits in August.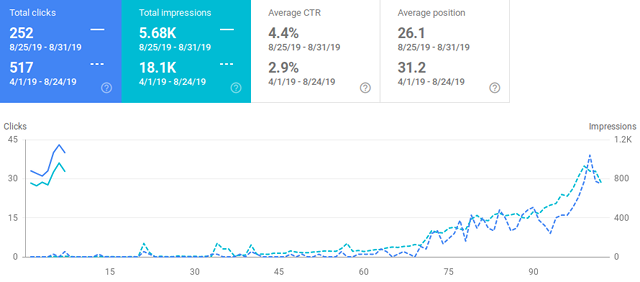 Google's search console says we're leveling off. We have roughly the same number of search impressions this week as we had last week, but our click-through rate is up from 3.5% to 4.5%.
Brian and I haven't been doing as good of a job at posting and reposting our new Butter, What?! content on social media lately. I feel better about relying on search traffic anyway, but I'm going to try to do a better job at this in the near future.
UPDATE: What did the next month (September) look like?!
I don't think one month's additional progress warrants a whole new blog post, but I do think it is worth posting an update to let you know how true my predictions turned out.
Butter, What?! saw 2,111 visits in September with 1,786 of those visits coming from Google. That's twice as many visits as we say in August, and search traffic is 2.5 times higher.

In August, Butter, What?!'s traffic accounted for about 4% of the combined traffic of our three blogs. In September, that number rose to nearly 9%.
I'm quite pleased with these numbers.
I don't expect the increase in traffic to be as big in October. According to Google's search console, Butter, What?!'s traffic is only up 10% this week compared to last week. I'm still excited about that; compounding a 10% improvement each week will add up fast! Just not as fast as 2.5 times.
UPDATE: October's numbers!
Butter, What?! saw 3,723 visits in October with 3,229 of those visits coming from Google. We didn't quite double the numbers from September, but I'm definitely pleased with these numbers. Total visits are up more than 75%, and clicks from Google are up 90%.
If traffic levels stagnate, November will still see 17% more search traffic than we saw in October.
In October, Butter, What?!'s traffic accounted for more than 11% of the combined traffic of our three blogs. I'm impressed by this, because patshead.com traffic is up 12.5% and briancmoses.com traffic is up 25% over last month.
I don't have any conclusions to draw. I just wanted to post an update with fresh numbers!
UPDATE: November's numbers!
November isn't a terribly organic month. Four a couple days, Google decided to send 1,000 clicks per day for a couple of days to one of my blog posts that rarely sees more than 15 clicks in a day. That inflated my numbers a bit. Not only that, but Brian just posted his 2019 EconoNAS build and giveaway. Not only does that give him a big traffic bump for the duration of the giveaway, but it usually gives me a small bump in traffic, and Butter, What?! is seeing extra NAS-related clicks as well.
Butter, What?! saw 6,012 visits in November with 5,344 of those visits coming from Google search. This looks a lot like last month. The numbers aren't quite doubled, but they're not far behind that figure!
Butter, What?! began to consistently see more than 100 clicks per day from Google search early in October. We aren't quite seeing 200 clicks per day just yet, but we're close. We had a 4-day period with more than 200 clicks each day last week, and we have days as high as 250 clicks in the last week. The low days are still dipping below 200 clicks, though.
In November, Butter, What?!'s traffic accounted for 14.5% of the combined traffic of our three sites. I was surprised it gained so much ground. About half way through the month, patshead.com started seeing roughly 20% more search traffic each day. Even with that gain and Brian's giveaway running for a few days in November, Butter, What?! still closed the gap by quite a good margin!
In November, patshead.com is up 35% compared to October. I didn't do the math on Brian's numbers. Sorry!
UPDATE: Numbers for December?!
This will probably be my last monthly update. In a couple of months, it will time to erase all these little updates and compile all this data into a single fresh blog post.
Butter, What?! saw 7,763 visits in December with 6,795 of those visits coming from Google search. Growth has slowed down, but I'm still pleased. This is an increase of 29% compared to November.
For most of the month of December, Butter, What?! saw more than 200 search visits per day. Most days in the last week of the month saw more than 250 search visits, so I won't be surprised if we see another 25% or 30% increase in January.
Traffic at patshead.com is down 6% this month. I blame this on the weird day or two in November that had an extra 1,000 to 2,000 search visits. I'm still up 25% compared to October, and my day to day traffic looks pretty nice the past few weeks!
Even with the extra traffic from the DIY NAS giveaway, Butter, What?! is still managing to account for a higher percentage of our total traffic compared to last month. This month, Butter, What?! accounted for 16.5% of our combined visits!
UPDATE: I said I wouldn't post an update in January!
I'm posting an update anyway. Butter, What?! saw more daily clicks from search in late December and early January than it had ever seen before. Then it dropped down to number similar to late November. We were up in the 250 to 275 click range. We are back down in the 200 to 250 range now.
The dip in traffic started a few days before Google made their weird update to how they're displaying search results. Is it a coincidence? Maybe. Probably. Neither patshead.com or briancmoses.com saw similar blips.
Traffic at patshead.com is up 13% this month, and that's 5% higher than November. I'm excited about this. My traffic from search has been stagnating at about 1/3 of my old peak traffic for almost an entire year. Today, I'm not far behind my peak!
Butter, What?! saw 8,121 visits in January with 7,085 of those visits coming from Google search, and Butter, What?! accounted for 18% of our total traffic.
Why do I keep posting these updates?
It isn't really for you guys. Gathering this data and writing these little summaries is forcing me to think about our traffic data!
Conclusion
I have no idea who the target audience for this blog post might be, but I'm excited about how things are going, and I figured it might be interesting to someone! We started a new blog, and it is starting to accrue some content and gain some search traction.
How do you think we'll be doing next month? Or by the end of the year? Do you want to get involved with what we're doing? Let me know in the comments, or stop by the Butter, What?! Discord server to chat about it!