I've been contemplating the idea of making some changes in my portable and mobile worlds for quite some time. For a long time, I only had a laptop and a cell phone. Life was simple then, and there wasn't much overlap between the two devices. Now I have a desktop computer, a giant 18.4" laptop, an 8.3" Android tablet, and a 4.7" Android phone.
There's a lot of devices there with overlapping functionality. I've been thinking about replacing my tablet and smartphone with a single device ever since my friend Brian bought his Nexus 6. The trouble is the Nexus 6 isn't much of an upgrade for me. It is a much better phone than my Nexus 4, but in all honesty, I barely use my phone unless I'm traveling.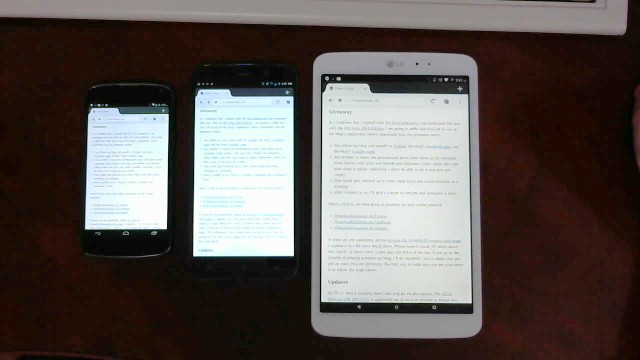 It didn't seem worth $460 to replace a device that I only use for about an hour each week. It also didn't seem worth spending that same $460 to limit myself to a smaller tablet, especially since I use my tablet for an hour or two every day.
Sony Xperia Z Ultra — The wrong phone for me
I've had my eye on the 6.4" Sony Xperia for almost six months. Aside from the screen, it would have been a slight upgrade over my Nexus 4. The huge 6.4" screen is nearly as large as my old Nexus 7. I read plenty of books on my Nexus 7, so I'm pretty confident that I could use a 6.4" screen for just about anything.
There were two problems with the Z Ultra. It is an extremely tall phone at 6.9" high. I'm not so sure that would fit well in my pocket. It also doesn't help that the price on the Xperia Z Ultra has gone up by about $80 since the last time I looked at it.
Blu Studio 6.0 LTE
I'm not entirely sure where I discovered Blu, but I'm glad that I did, even if their product names leave a lot to be desired. I zeroed right in on the Blu Studio 6.0 LTE. Don't get it mixed up with the extremely underpowered Blu Studio 6.0 HD. The Studio 6.0 LTE has twice as much RAM, a higher resolution display, four times the flash, and an LTE radio.
I've spelled out the complete name of the Blu phone almost every time I've mentioned it in this post. I'm too worried that someone will mistake it for a different Blu phone!
The specs on the Blu Studio 6.0 LTE are quite reasonable. On paper, it is pretty much a Nexus 4 with a much bigger, higher resolution screen and a slower GPU. That isn't exactly an upgrade for me, but I wouldn't call it a downgrade, either. The Blu phone also has twice as much flash as my Nexus 4 and a MicroSD slot.
The Blu Studio 6.0 LTE only costs about $200 shipped. That's less than half the price of the cheapest Nexus 6 I could find, so it was inexpensive enough that I didn't have to hesitate. Even if I hated it, I could easily stomach the loss.
First impressions out of the box
I was more than a little worried when I pulled the Blu Studio 6.0 LTE out of the box. I always tell people that I don't want my phone to be made of fancy, expensive materials like titanium or aluminum. I want my phone to be as light as possible. If a plastic phone is lighter, and it is still sturdy enough to survive living in my pocket, then a plastic phone is what I want.
The phone felt REALLY light. It ships without the battery installed, and it felt way too light and very oddly balanced. Also, the thin plastic cover on the back of the phone feels really flimsy without the battery.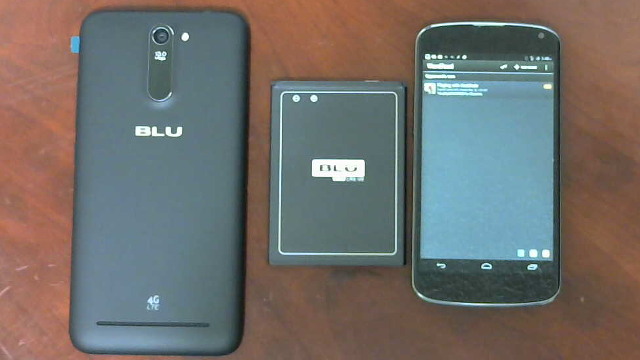 Once I put the battery in, things improved dramatically. The phone is very well balanced, and it weighs about as much as any other phone with a 6" screen. The 3200 mAh battery in the Blu Studio 6.0 LTE is nearly as wide as the Nexus 4!
I'm a fan of the finish of the back cover. It has a slightly rubbery feel to it, so it doesn't want to slide right out of your hand. It is the same sort of finish on the back cover of my old HTC Dream, the top of my wireless gaming mouse, or the Amazon Fire TV remote control. The glass on the back of my Nexus 4 might look better, but the Blu Studio 6.0 LTE feels much nicer in my hand.
The phone comes with a silicone case, but I never use cases, and I have absolutely no interest in making my giant phone any bigger.
It isn't exactly a Nexus 6
The Blu phone isn't a Nexus 6, and I didn't expect it to be. I knew most of the shortcomings before even placing my order, but I wasn't sure how much of an impact most of these shortcomings would have.
The Blu Studio 6.0 LTE has a lot going for it. It is a bit light, a few mm taller, and a couple mm narrower than the Nexus 6, and they both have 6" screens and a screen-to-body ratio of over 74%. In fact, the Studio 6.0 has a slightly better screen-to-body ratio, AND it has three physical buttons instead of software buttons like the Nexus 6. That buys the Blu over ¼" of extra screen real estate.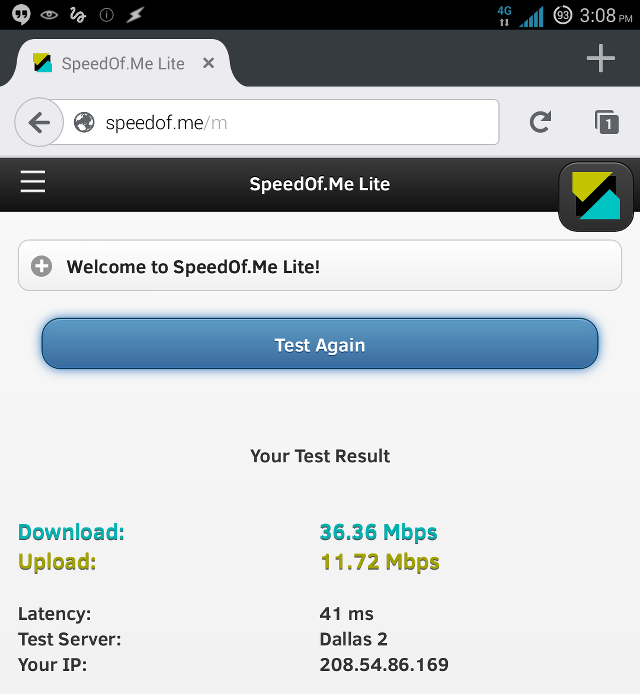 The Blu Studio 6.0 LTE phone has a very limited number of LTE bands, but they happen to be the bands you need for T-Mobile. My friend Brian and I both use T-Mobile, and we did some random bandwidth tests the other day while driving around town. My Blu phone had comparable performance to his Nexus 6 each time we tested, and I usually even came out ahead by a couple of megabits per second.
It isn't exactly a Nexus 4
I don't want to say that the Blu Studio 6.0 LTE is slower than my Nexus 4. They feel pretty comparable most of the time. I can quickly flip between apps like Hangouts, Janetter, Feedly, and RedReader in a fraction of a second on either device, and scrolling around in those apps feels just fine.
Sometimes the slow GPU in the Blu Studio 6.0 LTE becomes noticeable. When moving bubbles around in Link Bubble, the frame rate can get pretty low. This doesn't slow me down, but I can definitely see the bubble lagging behind my finger.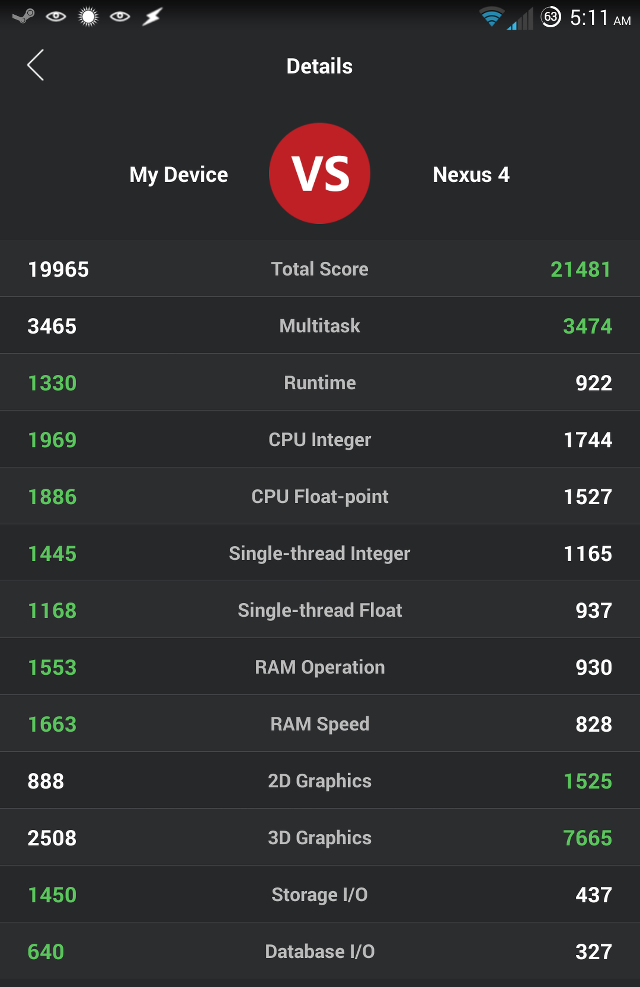 The Blu Studio 6.0 LTE fared surprisingly well in an AnTuTu benchmark. It managed to outscore the Nexus 4 in every test except for the two GPU tests, and the Blu isn't too far behind the Nexus 5. That slow GPU makes the UI a little less buttery, and it might keep me from playing some higher end games.
Luckily for me, the GPU is more than fast enough for the sort of games I play! At the moment, I'm addicted to You Must Build A Boat.
KitKat forever!
The Blu Studio 6.0 LTE ships with Android 4.4.2 KitKat. That's not exactly cutting edge, and I don't expect to ever see an update to Lollipop. For my own purposes, I'm not too concerned about this. I've been running KitKat on my Nexus 4 for ages. I am shackled pretty tightly to a couple of Xposed Framework modules, and they only recently started working with Lollipop.
I had some trouble rooting the phone. Towelroot just kept telling me that my device was unsupported. Lucky for me, once Blu's small OTA firmware update was installed, Towelroot had no trouble rooting the phone.
I can't say how well being stuck with KitKat will work out for you, but some Xposed Framework modules provide me with most of the Lollipop-related functionality that I would miss. For now, I will leave it at that. I think Xposed will need a blog post of its own.
GPS
I didn't see any mention of the quality of the GPS in the Blu phones. I was bitten by a huge GPS downgrade a long time ago when I upgraded from the HTC G1 to a Samsung Galaxy S, so I was a little worried about this.
The first time I took the Blu Studio 6.0 LTE out of the house, I just couldn't get a GPS lock. I checked the settings, and made sure all the GPS-related options were activated, and I rebooted the phone. As soon as I did that, Google Maps instantly made a lock, and it followed us perfectly to our destination.
I've navigated several times since then, and I haven't had any more trouble. My little car icon does a very good job of following the road on the map. It hasn't taken any weird journeys off on nearby roads, like my Samsung Galaxy S used to often do.
I'm pretty confident that the first failure was a fluke. I'll be sure to report back here either way!
I really miss Gorilla Glass
As far as I know, none of the phones from Blu ship with anything like Gorilla Glass. They have regular glass, and my Studio 6.0 LTE came with a screen protector installed to cover the cheap glass. I hate it. I really, really hate it.
Your finger doesn't slide as smoothly on a piece of plastic, and the plastic attracts all of the oils from your skin. I can use a device with Gorilla Glass for weeks and never notice how dirty the screen is, at least when looking directly at it. With the stupid screen protector, I could see a smudge the first time I touched the screen, and it just got worse from there.
I'm tempted to rip the screen protector off, but I know that I can't apply the spare protector without ending up with bubbles and dust underneath.
Is 2 GB of RAM enough?
My short answer to this question is yes. If you trust me on this, you can skip this section of the post!
I could write an entire blog post on this topic, but I'll do my best to summarize my thoughts. On my devices with 2 GB of RAM, Android is able to keep more than a dozen services running, and more than a dozen apps cached at any given time. I can easily flip between my half dozen most commonly used apps quickly and efficiently, even after I've been doing some heavy web browsing.
When you run out of RAM, Android starts kicking some of those cached apps out of RAM. Once those apps are shut down, you'll have to wait for them to start back up the next time you want to use them. The less RAM you have, the more waiting you have to do.
You're probably waiting around for apps to reload quite often if your device only has 1 GB of RAM. In my own experience, I don't see this happen all that often on my 2 GB devices. I usually only notice it after playing a big, heavy game. Of course, your mileage may vary!
And the real question is
Is the Blu Studio 6.0 LTE worth $206?
In my opinion, the answer to that question is yes. It is most definitely worth $200. I could buy two of these phones instead of a single Nexus 6, give one to my wife, and still have $50 left over to go to dinner. If you want a giant clown phone, I doubt you can do much better than the Blu Studio 6.0 LTE without spending at least twice as much.
Pros:
Physical home, back, and menu buttons means more screen real estate
2 GB of RAM
Fast enough (just barely!)
MicroSD support
6" 1080p screen
Easy-to-open back cover with user replaceable battery
T-Mobile LTE bands
Cons:
No Gorilla Glass
Slow GPU
Only T-Mobile LTE bands
Mediocre camera
Stuck with KitKat
No wireless charging
At $200, there really isn't much to complain about. The phone feels solid, and it doesn't creak or squeak. It even has a user replaceable battery, and you don't need a set of spudgers to get the case open. All you need is your fingernail! I've really missed phones that are this easy to take apart!
The Blu Studio 6.0 LTE seems to use the same chipset as the $179 Moto G from Motorola. The Blu has a bigger screen, twice as much RAM, and a larger battery than the Moto G. The extra $25 you have to pay for the Blu phone buys you a much more usable Android smartphone.
I'm much happier carrying a phone with a 6" screen, but I'm not yet entirely convinced that I won't end up missing my LG G Pad 8.3. Only time will tell. I did have enough confidence in this plan of mine just two days after the new phone arrived. I've wiped my old phone and tablet, and I sent them to my parents.
Do you have a Blu Studio 6.0 LTE, or any other Blu phone? What do you think of yours? Did I leave anything important out of this post? What else would you like to know about the phone?