Buying gifts is hard work. It is that time of year again, and I'm working hard trying to figure out exactly what to buy for everyone. I thought I might be able to help someone else out if I made a list of some of my favorite toys and gadgets. My friend Brian also thought this was a good idea, and he posted a list of his own this year.
I already own almost everything on this list. That means that you shouldn't buy me anything on this list for Christmas, because I already have it. It also means that I've actually used all this stuff, and I am giving it my official seal of approval.
There are a few things on this list that I don't own. For instance, I only have one of the listed USB battery packs. I can only put my seal of approval on the smallest of the three, but I was worried that that size might not be ideal for everyone.
USB Battery Pack Chargers ($9 to $50)
External USB battery packs should come in handy for any geek who needs to keep their gadgets powered up while on the go. I ordered my first external battery pack last week, and I decided to get one of the smallest and most inexpensive models I could find.
It is the Swift Gear Mini 2600 mAh battery pack. It is a small, light, four-inch tube that is small enough that I won't even notice it in my jacket pocket. It is about the size of a small flashlight. In fact, it is a small flashlight, and a surprisingly bright one at that.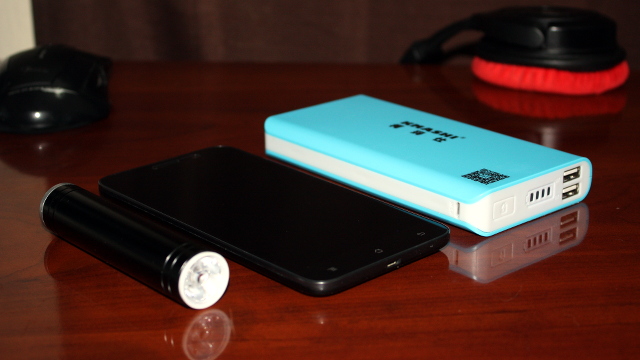 I was a bit worried that a 2600 mAh battery pack might not have enough capacity, but I'm happy with the choice I made. It is able to bring my Nexus 4 from 14% charge all the way up to 84% in less than two hours. That is enough to buy me a few extra hours of tethering, which will definitely be helpful next time I'm stuck waiting in an airport. It also manages to bring my 2012 Nexus 7 tablet up to 43% from the low battery warning at 14%.
I also included two larger battery packs in my list. I haven't used these specific models myself, but they were other models I was considering before I decided what size I wanted. Both of the larger battery packs are capable of charging two devices at a time, and their larger capacity would be handy if you were trying to charge a more power-hungry device like a tablet.
Arduino Starter Kits ($55 to $130)
The Arduino is a nifty little hardware prototyping platform, and it is a great way to dip your toe into the world of hardware development. An Arduino board all by itself isn't very useful. When my first Arduino board arrived, the first thing I did was program it to blink an S.O.S. on its built-in LED.
This isn't very exciting at all. You need other electronic components if you want to do something interesting. You need parts like LEDs, resistors, buttons, motors, and buzzers. The easiest way to get going is to buy an Arduino starter kit.
I pieced together my own starter kit, but that wouldn't make a very good gift. The Official Arduino Starter Kit and the Sparkfun Inventor's Kit are both good choices, and they're pretty comparable. The official kit seems to come with a larger printed guide, while the kit from Sparkfun comes with a nice storage case.
Of the two, I think Sparkfun's Inventor's Kit is a better gift and a better value. Sparkfun's carrying case is a nice touch, and their holder for the Arduino and breadboard looks pretty convenient.
If you'd like to save money, you can go with a more generic kit. This Arduino Uno Ultimate Starter Kit is about half the price of the other two kits. It may have fewer components than the other two kits, but it definitely provides a better "bang for the buck."
My Favorite Multitool ($80)
I have had my Swiss Army CyberTool for at least 12 years now, and I would be lost without it. I actually received mine as a Christmas present, and it is the perfect multi-tool for a geek like me that is always building computers and taking apart servers.
The thing that puts the CyberTool 34 above most other multitools is its bit driver. It comes with Torx bits, which are handy if you run into any HP servers. The bit driver itself is also the correct size to fit those brass motherboard standoffs.
A lot of people prefer the Leatherman-style tools, and I own a similar Gerber multitool. These are also very handy tools, and I've used mine quite a bit, but they're all centered around that giant pair of pliers. I just don't need pliers very often. If your geek is anything like me, he'll get a lot more mileage out of the Victorinox CyberTool 34.
Laboratory Beaker Mug ($15)
This is probably one of the best birthday presents that I've gotten in a long time. First off, it is just really awesome looking. It is pretty much an actual beaker with a handle molded on to the side, and that is just really cool.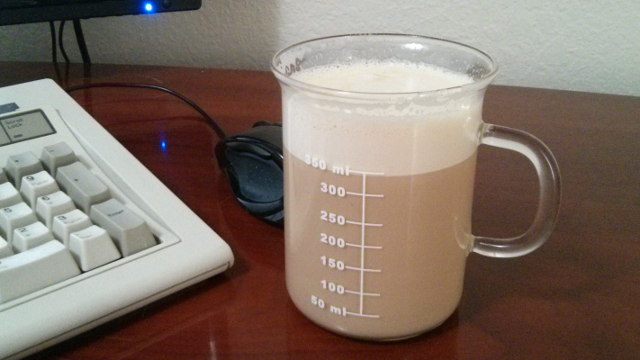 I use it every day when I make myself a latte. It is the perfect vessel for that, too. The thin glass doesn't instantly cool down my drink like standard ceramic mugs do, and being able to see the layers of espresso, milk, and foam through the side is a nice bonus.
Do you have any ideas for fun, geeky gifts? I'd sure like to hear about them!