When I upgraded to a new laptop, I also upgraded back to a dual head setup with a pair of external monitors. I don't need the laptop to be sitting in the middle of my desk anymore, so I wanted to find somewhere I could park the laptop, preferably out of sight.
I picked up four larger PVC J hooks from Lowes for less than a dollar each. I'm pretty sure I used the hooks meant for 1.5-inch PVC pipe.
I screwed two of them to the desk with the J side facing down. This makes the floor the laptop sits on. I screwed one more into the desk with the J side facing up. This one keeps the laptop from tipping out of its little cradle.
I cut the third one down to about one third of its original length. I screwed that one into the desk perpendicular to his other three friends, being careful to position it so that it didn't block any of the ports on that side. His job is to make sure I don't just slide the laptop straight through, out the back, and onto the floor.
After it was already in place, I realized that it is probably a good idea to have the front hook mounted a tiny bit higher than the rear hook. That way, gravity would hold the laptop up against the smaller hook.
I have a can of black vinyl dye here. My plan is to spray the hooks and my DIY monitor stand black. I've been putting it off because I'll have to take down the monitors and the laptop for a day or two. One problem is that I don't want to be without my monitor and laptop stands for a few days. The other problem is that I can't see any of the PVC from where I'm sitting. I barely realize it isn't painted.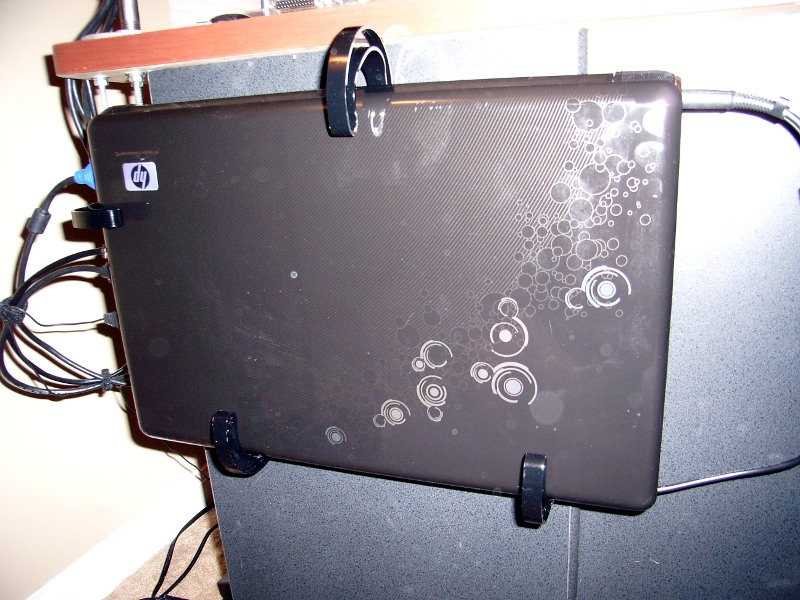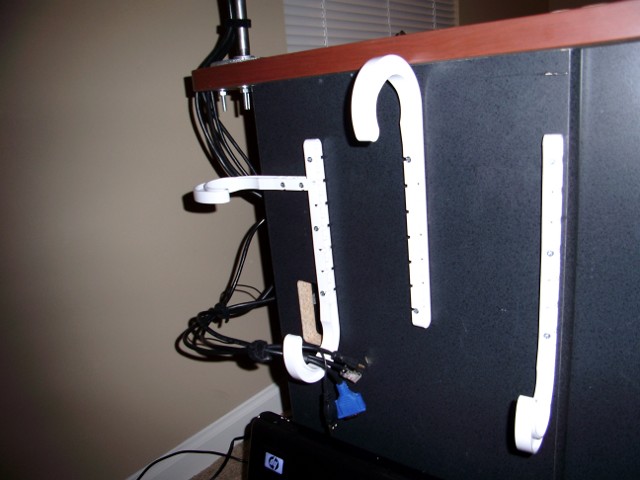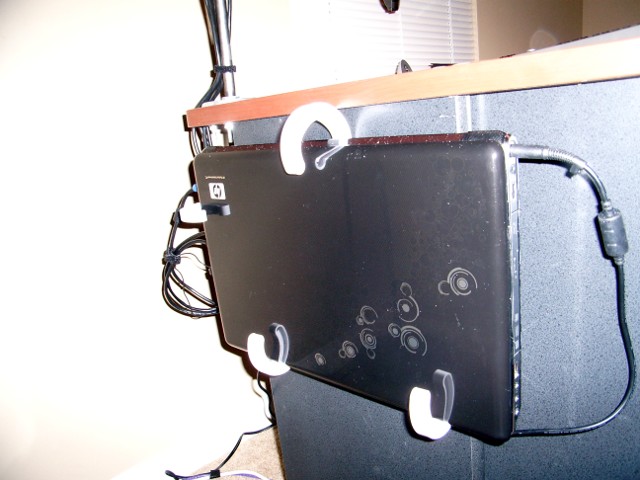 Update 2010-11-06:
I finally got around to spraying the laptop rack with vinyl dye and I added a picture of the finished product. It looks much better now and it doesn't stand out nearly as much as it did when it was bright white.