I don't know how I managed to notice this, because I almost never open the Google Play store on my phone, but I did open it a few nights ago, and there was a Tailscale update waiting. I clicked the update button, and I think I might have had to open Tailscale to fire the VPN connection back up.
That's when I noticed a menu option to enable using my phone as an exit node. What?! My phone is set to install Tailscale beta releases. This says it is a release candidate, so I guess this feature has been hiding on my phone for a little while already.
Of course I had to try it out. It works just fine. This did make me realize that I have yet to set up any exit nodes on my Tailnet, so it must be time to put exit nodes on all the things.
I set up an exit node on one of my virtual servers in the house, my Android phone, and on my Raspberry Pi server at Brian Moses's house.
Then I got an email telling me that I paid $4.26 for the month for my Digital Ocean droplet that runs the Nginx server for several of our blogs. Why didn't I think to enable the droplet as an exit node?! It is an exit node now.
What is an exit node? Why would you need one?
An exit node is how you get yourself some of the functionality of something like NordVPN or Private Internet Access for free. Once a machine is configured to be an exit node, any other machine on your Tailnet can force all their Internet traffic through that node.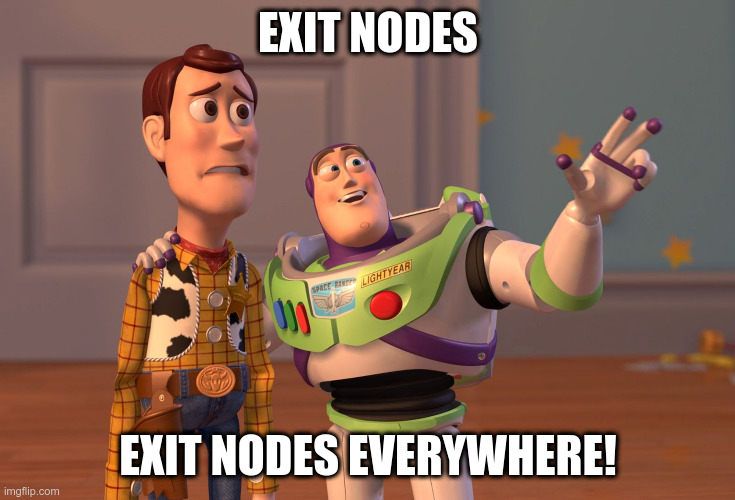 What if you're on your laptop at Starbucks and want to make sure the barista who owns the WiFi can't snoop on your traffic? What if the network in your hotel is blocking access to YouTube? What if you're in Ireland and want to watch shows that are only on American Netflix?
You just click on your Tailscale icon, choose the exit node option, and choose which exit node you want to route this computer's Internet traffic through. All your traffic will flow through an encrypted Wireguard connection from your laptop in Ireland to your other computer in Plano, TX, and from there it will travel the unencrypted Internet to Netflix.
Tailscale does the right thing again
It wasn't until the next morning that I worried I had committed an offense! It seemed sensible to turn on at least one exit node at every physical location where I have a Tailscale node, and one of those nodes is my Seafile server at Brian Moses's house.
I remembered that I am sharing the Seafile Pi with Jeremy Cook and my wife. Neither of these are nefarious characters that I would expect to abuse Brian's Internet connection, but I certainly hadn't thought about this, and I most definitely didn't want to abuse my free colocation facility!
I didn't need to worry. Tailscale does the right thing. If you activate an exit node after you've already shared the node, they won't have access to the exit node. Not only that, but you can't give your friends access to the exit node after the fact without their knowledge.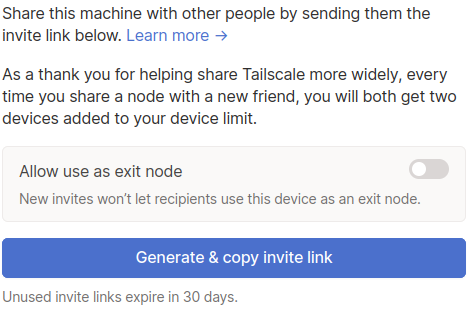 You have to send them a new share invite with the exit node enabled. I verified this by having Brian check to see if my Seafile server showed up in his list of available exit nodes.
Conclusion
Tailscale exit nodes are neat. Sometimes you need Netflix to think you're in a different country. Sometimes you want to hide your traffic from Starbucks or your employer. Sometimes you just need to test that your website is working as expected from another physical location. A Tailscale exit node can cover all these situations and more.
I am not sure when I will need an exit node on an Android phone, but I am excited that I have the option, and I am excited about the idea of repurposing old Android hardware. You can run Octoprint on a phone using Octo4a, someone has set up a backup server on their old cracked Android phone, and now you can throw Tailscale on a cheap old phone from your junk drawer and leave an exit node behind anywhere you want. That's awesome!