I'm in the middle of my cabinet upgrade and I'm modifying all sorts of configurations and settings. The work is going slow. I can't help wasting time playing games every time I get another emulator set up to run on the second display.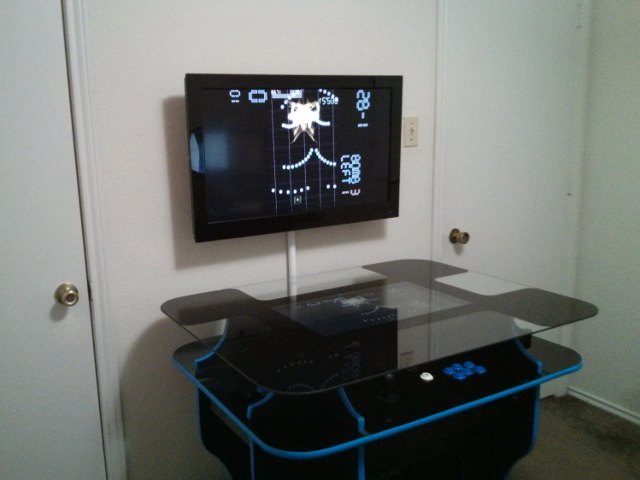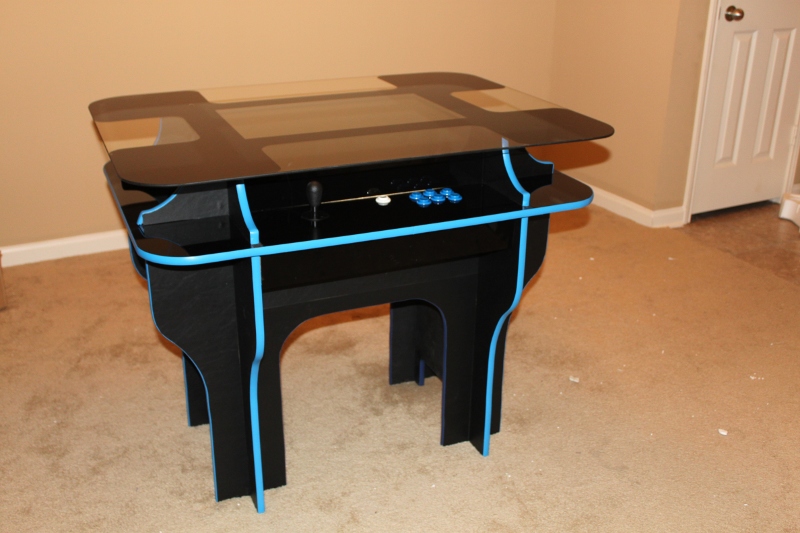 I thought this would be a good time to start writing up an inventory. I'm going to add to these lists as I go, and hopefully I will manage to keep them up to date.
The Computer Hardware
Athlon X2 3800+ (2 cores, 2 ghz)
1 GB RAM
Random Motherboard with 6 SATA ports
Random old 2 port 3ware SATA RAID controller (just for an extra SATA port)
Cheap $1.50 USB Bluetooth dongle
Six (6) 1 TB SATA disks (RAID 6, for network storage)
One (1) 320 GB SATA disk (OS and Games)
NVidia GTS 240 1024 MB (112 CUDA cores)
Operating System
Just upgraded (it is early in October now) to Ubuntu 12.04 from 10.10.
I'd been rather lazy about this. As long as it could store files and play games I didn't really want to touch it.
Why am I trying to force everything to 1080p or 720p?
With the older NVidia driver, the TV will only run at a handful of resolutions. When I force a resolution other than these, the NVidia driver scales the output to one of these two resolutions. This was slower, but it meant that everything was always running at the correct aspect ratio.
The most recent NVidia driver will drive the TV at a few more useful resolutions. Unfortunately, it stretches resolutions like 640x480 from 4:3 to 16:9. I can't correct this with settings on this particular TV, either.
Nintendo Entertainment System
For NES emulation I am using MESS. I'm trying to use MESS whenever I can because its split-screen cocktail mode is very useful on my arcade cabinet.
Switching from cocktail to normal mode requires quite a few button presses and joystick moves. Bring up the menu… Change the display mode… Change the rotation… It feels a bit like punching in the Konami code but without the muscle memory to assist you. I need to automate this.
The performance is excellent. It'll play split-screen or normal at 1080p without any frame skipping. MESS is pretty picky about which ROM files it will run, though. I've tried to run a "hacks" like ZeldaC and Mario Adventure but they both fail to run.
Super Nintendo Entertainment System
Up until today I was using MESS for SNES emulation. I'll have to check and make sure that I'm not crazy, but I am almost certain it ran fine in "cocktail" mode at 960x540.
My new television will not run at 960x540. I couldn't go any lower than 1280x720. At that resolution it was dropping 50% of the frames in "normal" mode.
For now I switched it to snes9x-gtk. It is running at 1080p with bilinear filtering without a problem.
PC Engine
This is another one that MESS manages to do a great job at emulating. No frameskipping at 1080p in either cocktail or normal orientation.
Sega Genesis
From a performance perspective, this one runs flawlessly under MESS. No frameskipping at 1080p in cocktail or normal orientations.
I do currently have a strange issue, though. The "player 3" joystick will not work at all. I've remapped the keys in MESS exactly like I have for the NES, SNES, and PC Engine. I can use the buttons to shoot or jump just fine, but it refuses to move the around.
MS-DOS
DOSBox seems to run at 1080p with the same "amazing" framerates I remember getting from the real hardware.
I haven't found many old DOS games that I would want to play, though. So far I only decided on three:
Arcade Emulation
I use MAME for all my arcade emulation, of course. I haven't tweaked it for the new television yet, but I know it'll run "cocktail," two-player Mortal Kombat 2 with no frame skipping at 1080p.
Native Games (and "nearly" native Windows games)
I've written entries about some of these games already. I'm going to slowly build this list as I reconfigure and test these games on the new display. I've already noticed a few games that now run fine at 1080p that I was running at tiny resolutions like 640x384.
Inverting the display for my poorly chosen monitor is a huge performance killer.
Actual Native Linux Games
a7xpg – 640x480, perfect
Bit.Trip Runner – 1080p, perfect
Braid – 1080p, 60 FPS
Cave Story Plus – 1080p
Dustforce – 720p, FPS too low (need to investigate)
Fotonica – 1080p, perfect
Irukandji – 800x600 (native)
Jamestown – 1080p, perfect
noiz2sa – 640x480, perfect
Parsec47 – 640x480, perfect
Rico – A Tale of Two Brothers – 1080p, perfect
rRootage – 1080p, perfect
Super Hexagon 1080p, perfect
Secret Maryo Chronicles – 1080p
Syder Arcade – 1080p, perfect
Swift*Stitch – 1080p, requires mouse
Titanion – 640x480, perfect
Torus Trooper – 640x480, perfect
Thomas Was Alone – 1080p, perfect
Tumiki Fighters – 1080p, perfect
Val and Rick – 640x480, perfect
Voxatron – 1080p, 35 FPS
VVVVVV, 1024x768, perfect
Wizorb – 1080p, perfect
Flash games running in a full screen Google Chrome browser
These are mostly playable but usually a little slow. Adobe's Flash player for Linux isn't nearly as well optimized as it is on Windows. Most of these run just fine on my laptop, so a CPU upgrade would probably straighten them right out.
Canabalt – Same low frame rate at any resolution
KRUNCH – 1024x768, low frame rate
Offspring Fling – 640x480, 20-22 FPS
Pakkuman's Defense – 640x480, a bit sluggish
Windows games running under Wine
Arcadia – 1024x768, perfect
Knytt Underground – 1080p, perfect
Mactabilis – 1080p, perfect
Mutant Mudds – 1080p, perfect
Omega Race 2009 – 1024x768, perfect
Pid – 1080p, perfect
Space Fury – 1024x768, perfect
Spelunky – Plays fine. (Very slow in score room. Problematic when quitting.)
Star Castle – 1024x768, perfect
Tiny Plumbers – 1080p, Wine 1.5.17, very minor slowdowns, better at 1080p than 640x480!
Super Mario Bros. X – "Full Screen", very minor frame skipping. No noticeable frame skipping on my laptop, so it just needs more CPU
SYNSO:CE – 1080p, Much smoother since at least Wine 1.5.29
Vatn Squid – 800x600, smooth gameplay, slows down between rounds
War Twat – 1080p
Zektor – 1024x768, perfect
Windows games running poorly under Wine
Viriax – 640x480, Seems to have some slowdowns during gameplay
Native Linux Games that require an analog gamepad
For my purposes, these don't qualify as "arcade" games because they can't be played with the digital controls that are installed on my arcade cabinet. Most of these are best played on a gamepad with a pair of dual analog sticks.
Bastion 1080p, smooth. It doesn't "see" enough buttons on my gamepad to be playable
Bullet Candy Perfect – 1080p, perfect
Psychonauts – 1080p, perfect
Scoregasm – 1080p, perfect
Shank – 1080p, perfect
TORCS – 1080p, 30-60 FPS
Speed Dreams – 1080p, 30-60 FPS