My May shipment from Craft Coffee has arrived. I've been waiting very patiently, and I was doing my best to stretch my first month's coffee shipment as far as I could. I cheated a little. We were drinking coffee from our local shop, Addison Coffee Roasters, just about every other day for the last week or so. It is fine coffee, but not as good as the three coffees we received last month from Craft Coffee.
This trio of coffees wasn't as exciting as last month's. They're all delicious, but none of them are jumping out as being special. Last month I couldn't stop telling people about the "Frankenberry" coffee, and I could pretty accurately guess which of the other two coffees I was drinking without looking at the name on the bag.
This month, all the coffees taste pretty similar to me. It probably doesn't help that I only drink lattes. All that milk and sugar most definitely hides a lot of the flavor.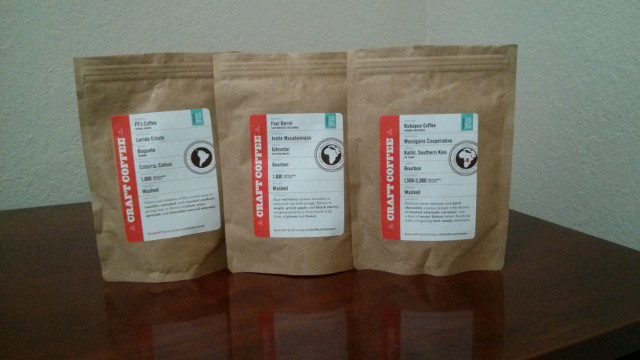 These posts about Craft Coffee are the slowest blog posts I've ever written, but they may also be the most delicious. Most of the time I have at least half of a rough draft typed up before I even think to stop. These coffee posts seem to drip out of me by about one or two paragraphs per sitting. I won't be surprised if it takes more than six double shots of espresso.
PT's Coffee, Topeka, KS
Producer
Lerida Estate
Origin
Boquete, Panama
Variety
Caturra, Catuai
Elevation
1,800 Meters
Process
Washed
Clean and complex, with a sweet nose of vanilla, caramel, and roasted cashews giving way to flavors of plum wine, apricots, and chocolate-covered almonds.
I can definitely notice the hint of vanilla in the PT's Coffee. Maybe I can pick up the caramel. It is definitely a bit nutty, and it might remind me of cashews a bit. It has a nutty aftertaste. Different from the cashew, but I can't say that it is like almonds or chocolate-covered almonds.
I'm definitely a sipper. It takes me quite a while to finish my latte. I'm really noticing the aftertaste in the long intervals between sips. Not unpleasant.
Four Barrel, San Francisco, CA
Producer
Justin Musabyimana
Origin
Gihombo, Western Rwanda
Variety
Bourbon
Elevation
1,800 Meters
Process
Washed
Ripe red berry aromas introduce a balanced cup with syrupy flavors of maple, green apple, and black cherry, complemented by a clean finish with hints of plums and honey.
On my first pass through these three delicious coffees, I was ready to rank this coffee from Four Barrel at the bottom, but the more I drink the more I'm enjoying it. I don't think I'm going to be able to pick out a clear favorite this month.
The description on the pouch sounds plausible to me. I don't eat enough of the fruits listed in their little blurb to know precisely how accurate their description is, and I'm sure I'm drowning out some of these flavors with milk. The coffee from Four Barrel seems a bit tart at first, and it has a slightly sweeter aftertaste.
Kickapoo Coffee, Viroqua, WI
Producer
Muungano Cooperative
Origin
Origin
Variety
Variety
Elevation
1,500-2,000 Meters
Process
Washed
Delicate honey blossom and dark chocolate aromas mingle with flavors of toasted almonds, caramel, and a hint of meyer lemon before finishing with a lingering tart candy sweetness.
This coffee from Kickapoo Coffee is quite good. It tastes a lot like the offering from PT's Coffee, but without the hint of vanilla. I've been having trouble picking out all the flavors mentioned in the description with this coffee. In fact, I've almost run out of Kickapoo Coffee already. I only have about 15 grams left!
I've never tasted a Meyer lemon before. Wikipedia says that they are thought to be a cross between a true lemon and a mandarin orange. I had trouble picking it out at first, but now that I have, the slightly lemony aftertaste seems pretty obvious.
This coffee does have a bit of a nutty taste, but I'm not so sure that it reminds me of almonds. I don't like almonds, so maybe I'm just not good at recognizing them.
The verdict
This month wasn't as exciting as last month, but all three of these coffees were among the best I have ever tasted. I'm only to months in to my subscription so far, and I'm already thinking about extending it by twelve months when my subscription runs out.
The six packets of coffee I've received so far have all been delicious. I've investigated the pricing on the coffee I've had so far, and some of it is quite a bit more expensive than the Craft Coffee subscription.
This subscription to Craft Coffee was an awesome gift to receive, and I can hardly wait to see what is coming next month. If you are looking for a gift for a coffee drinker, you'd have a hard time beating a subscription to Craft Coffee.
Use my referral code "pat1245" and you'll get 15% off
If you use my referral code (pat1245) when checking out at Craft Coffee, you will get a 15% discount. Not only will you save money, but they tell me I'll get a free month of coffee with every order. That sounds like a good deal for both of us!