Things are a little different this time. I was up in Scranton visiting and helping out my parents for about two weeks. The timing of the trip wasn't very well planned, and I didn't have any delicious coffee to take with me. I stopped at our local Central Market here in Plano, and I picked up a bag of Java Pura's Ethiopia Sidamo beans to take with me.
This is the first time that I've been without my Rancilio Silvia since it arrived, and going back to the old Mr. Coffee espresso machine at my parents' house was quite a learning experience!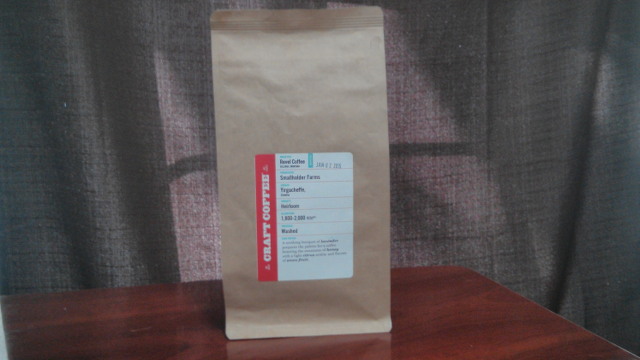 The Java Pura beans were almost completely unusable to me with the Mr. Coffee ECMP50 espresso machine. I tried tuning things in as best as I could, but every latte I made was bitter. I had to do something, so I ordered an extra bag of coffee from Craft Coffee. I chose a bag of Yirgacheffe from Revel Coffee Roasters.
I received a bag from Revel Coffee Roasters in October, and I enjoyed it, so I figured that I should give their Yirgacheffe a shot. I almost always enjoy Yirgacheffe.
Revel Coffee Roasters, Billings, MT
Producer
Smallholder Farms
Origin
Yirgacheffe, Ethiopia
Variety
Heirloom
Elevation
1,800-2,000 Meters
Process
Washed
A soothing bouquet of lavender prepares the palette for a coffee boasting the sweetness of honey with a light citrus acidity and flavors of stone fruit.
The tasting notes are problematic for me with this bag of coffee because I have no idea what a stone fruit tastes like. In fact, I had to look it up on Wikipedia!
With the old Mr. Coffee Machine
The Yirgacheffe beans from Revel Coffee were a much-welcomed improvement. After a slew of half-finished lattes, it was nice to finally make one that I wanted to finish!
I won't say that they were GOOD lattes, though. Not compared to what I've been making with my Rancilio Silvia. There were no offensive bitter or sour flavors, but the Mr. Coffee espresso machine made a very bland latte. On the plus side, though, it was very easy to consistently reproduce that same mediocre latte.
I only managed to go through more than half of my 12-oz bag of Revel Coffee Roaster beans before I flew home to Plano. This is exciting for me, because it is the first time that I get to compare my old Mr. Coffee espresso machine experience directly to my new Rancilio Silvia.
My skills with Rancilio Silvia have been slowly improving over the last six months. I didn't have a clear memory of what the Mr. Coffee lattes tasted like. I didn't know if Miss Silvia was really worth her price tag—she costs almost ten times as much as my old Mr. Coffee machine!
I can say that Miss Silvia is worth every penny. There is absolutely no comparison between two machines. It was a very welcomed improvement coming home to my Rancilio Silvia.
I didn't have enough Revel Coffee beans to tune in the perfect latte, but I think I came pretty close.
Use my referral code "pat1245" and you'll get 15% off
If you use my referral code (pat1245) when checking out at Craft Coffee, you will get a 15% discount. Not only will you save money, but they tell me I'll get a free month of coffee with every order. That sounds like a good deal for both of us!