My third month with Craft Coffee might be the most delicious yet. As soon as I opened the box, I fired up the Espresso machine and made myself a delicious latte using Oren's Daily Roast. I knew immediately that this had to be the best coffee of the three—it was just SO smooth and delicious.
I was very wrong. All three coffees this month are on pretty equal footing.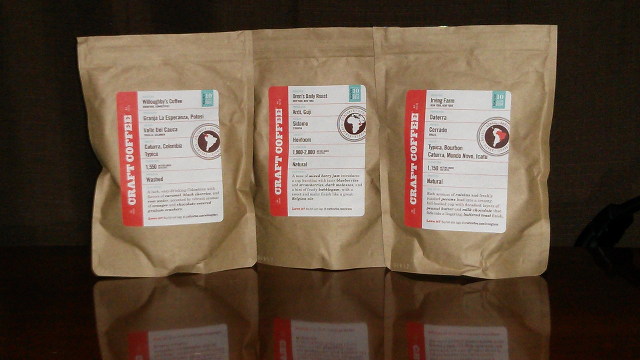 You'll probably notice that I use the word "delicious" quite a bit. This is why I mostly write about technology and not food or drink. I am apologizing for this in advance.
Oren's Daily Roast, New York, NY
Producer
Ardi, Guji
Origin
Sidamo, Ethiopia
Variety
Heirloom
Elevation
1,900-2,000 Meters
Process
Washed
A nose of mixed berry jam introduces a cup bursting with juicy blueberries and strawberries, dark molasses, and a hint of fruity bubblegum, with a sweet and malty finish like a great Belgian ale.
I just had to open this one first. The Ethiopian Yigracheffe from Slate Coffee Roasters in my first package from Craft Coffee was spectacular. That made me decide to buy some Yigracheffe locally from Addison Coffee Roasters. The Yigracheffe from Addison Coffee Roasters was pretty good, and it might even be my new favorite coffee of theirs, but it just isn't in the same class the beans from Slate Coffee Roasters.
These beans from Oren's Daily Roast are also from Ethiopia, and they are unwashed beans like the ones from Slate Coffee Roasters. I just couldn't help myself. I had to try these first.
I'm glad I did. This coffee is fantastic. It is smooth and silky. It doesn't have the extreme dried strawberry finish that the Slate Coffee Roasters coffee had, but I can easily pick out the blueberry flavor in here.
Irving Farm, New York, NY
Producer
Daterra
Origin
Cerrado, Brazil
Variety
Typica, Bourbon, Caturra, Mundo Novo, Icatu
Elevation
1,150 Meters
Process
Washed
Rich aromas of raisins and freshly roasted pecans lead into a creamy, full-bodied cup with decadent layers of peanut butter and milk chocolate that fade into a lingering, buttered toast finish.
I don't know if I goofed up when pulling the first shot, but I had trouble picking up on the flavors mentioned in the summary on the pouch. It tasted great, and I could pick out a bit of a nutty flavor, but that was about it.
The second latte I made was much more flavorful. The smell of raisins was easy to pick out, and the flavor really did remind me of peanut butter. I don't know that I identified the buttered toast, but the finish and aftertaste were quite pleasant.
There is a chocolate flavor there, but I think I pick up on that in most lattes that I make. I'm always telling people that I know I made a good latte if it reminds me of a hot chocolate.
Willoughby's Coffee, Branford, CT
Producer
Granja La Esperanza, Potosi
Origin
Valle Del Cauca, Trujillo, Columbia
Variety
Caturra, Columbia, Typica
Elevation
1,550 Meters
Process
Washed
A lush, easy-drinking Columbian with flavors of caramel, black cherries, and rose water, accented by vibrant aromas of oranges and chocolate-covered graham crackers.
I'm definitely picking up the caramel flavor of this coffee from Willoughby's, but I'm having trouble finding any of the other characteristics listed on the pouch. I might be picking up a hint of black cherry right as I'm finishing each sip, but it vanishes pretty quickly. I'm not sure if it is really there, or if I'm just convincing myself that it is.
This is another smooth and delicious coffee, just like the other two.
The Verdict
This has been another excellent selection from Craft Coffee. Last month's coffee was very good, too, but this month the flavors are much more interesting. The coffees in this batch are also some of the least expensive coffees they've sent me.
Before they arrived, I was a little pessimistic. I thought it looked like they were going to be making a better profit this month by shipping me cheaper, less awesome coffee, but I couldn't have been more wrong. This is some really awesome coffee, and they'd all be excellent candidates to replace my "go-to" coffee.
This marks the half-way point of the Craft Coffee subscription I received as a gift three months ago. I'm definitely very pleased with it. All the coffee they've sent is delicious and freshly roasted. Every pouch has the date of roasting printed right on it—these were roasted on June 10. That's roughly one week before they arrived at my door.
It was a delicious gift, and I'm very seriously considering extending my subscription. It is a pretty good value. I don't think I can have 12 ounces of many of their selections shipped to my home for less than Craft Coffee's monthly subscription fee, and they're always sending me something new and delicious.
Use my referral code "pat1245" and you'll get 15% off
If you use my referral code (pat1245) when checking out at Craft Coffee, you will get a 15% discount. Not only will you save money, but they tell me I'll get a free month of coffee with every order. That sounds like a good deal for both of us!