I had some trouble this month. I adjusted the roast level of my Craft Coffee subscription down one notch from "Medium-Light Roast" to "Light Roast," and this is pushing things a bit too far for espresso. I still enjoyed some amazing lattes using the beans from Quasar Coffee this month, but it was a lot more work than it should be, and I pulled a lot of terrible shots.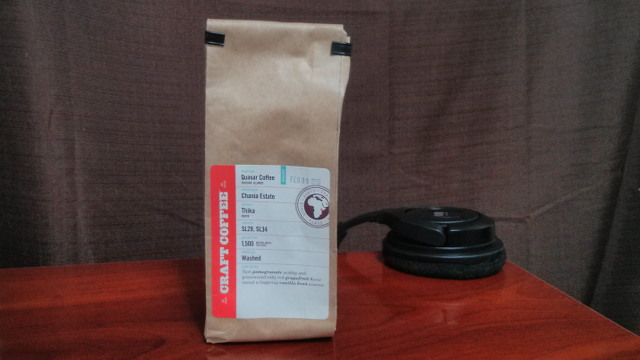 I've corrected my mistake and switched my subscription back to "Medium-Light Roast." Things should be back to normal next month. I am using the other two bags of beans to experiment with other brewing methods that I abandoned long ago—the french press and the Moka Express pot.
Quasar Coffee Roasters, Chicago, IL
Producer
Chania Estate
Origin
Thika, Kenya
Variety
SL28, SL34
Elevation
1,500 Meters
Process
Washed
Tart pomegranate acidity and pronounced ruby red grapefruit flavor reveal a lingering vanilla bean essence.
I made some pretty amazing lattes using the beans from Quasar Coffee Roasters, but it did like to get away from me and pull way too fast sometimes. Even the fast shots were still pretty good, though.
I've never been able to enjoy grapefruit, but I do have a very distinct and negative memory regarding grapefruit juice. I can't tell you for certain that this pronounced flavor is indeed similar to a "ruby red grapefruit," but this Kenyan coffee from Quasar Coffee Roasters has a hint of something that brings back memories of that bottle of grapefruit juice.
The vanilla taste is easy to pick out as well, and it is very nice.
I really enjoyed this coffee, but it was pretty difficult for me to pull a consistent double shot of espresso. The margin of error between a near perfect shot and a 12-second waterfall was really narrow with these beans, but some of those faster pulls of the Quasar Coffee still made some delicious lattes. With most beans, a pull that fast results in a pretty sour latte.
Use my referral code "pat1245" and you'll get 15% off
If you use my referral code (pat1245) when checking out at Craft Coffee, you will get a 15% discount. Not only will you save money, but they tell me I'll get a free month of coffee with every order. That sounds like a good deal for both of us!