Craft Coffee sends me 12 ounces of coffee every month, but that only lasts me about two weeks. That means that I have to find other coffee to finish out each month. The beans I've been buying the last few months come from Java Pura in Houston, TX. They're not quite local, but they're not too far away.
Java Pura beans are very inexpensive at my local Central Market—just $9.99 for a 12-ounce bag. The bags I've bought so far were all roasted within the last month, too! So far I've tried their Ethiopian Yirgachiffe and their espresso blend.
I've been drinking the espresso blend for the last couple weeks. It tastes pretty good. It is oily, and a little too dark for me, but it is ridiculously easy to pull consistent shots with. The lighter coffees from Java Pura, like their Yirgachiffe, have been much more difficult to tune in.
While I have been enjoying Java Pura's espresso blend, I've been patiently waiting for the next selection from Craft Coffee. The espresso blend tastes good, but it is very boring.
Revel Coffee Roasters, Billings, MT
A lovely nectarine brightness can be detected amongst a body resembling jasmine tea and concord grapes before leveling out with a pleasant nip of grapefruit peel.
Revel Coffee Roasters, Billings, MT
Producer
Gondo Farmers Cooperative Society
Origin
Murang'a, Kenya
Variety
SL-28
Elevation
1,700+ Meters
Process
Washed
A lovely nectarine brightness can be detected amongst a body resembling jasmine tea and concord grapes before leveling out with a pleasant nip of grapefruit peel.
The first thing that I noticed about the coffee from Revel Coffee Roasters was the smell. It smelled much more interesting than the espresso blend that I've been drinking for the last two weeks. The aroma was more like something you would expect to find in the produce aisle at the grocery store than in a bag of coffee beans.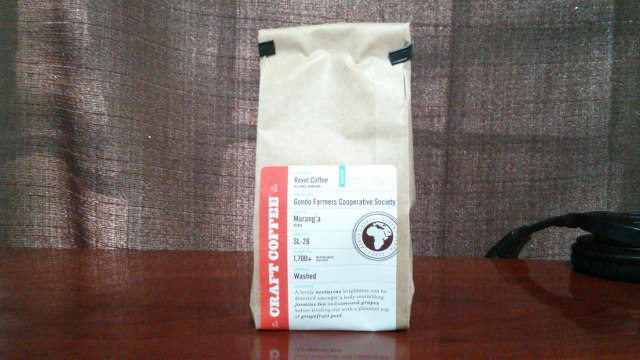 I don't know if I'm doing something wrong, but this month I am at a completely loss in attempting to identify any of the flavors mentioned in Craft Coffee's notes. This is the first time that this has happened in eight months. Half the problem might be that I don't know what jasmine tea or grapefruit peel taste like.
This is a lighter roast, and I still have difficulty pulling consistent shots on my Rancilio Silvia unless I'm using a dark roast. Craft Coffee allows you to choose whether you prefer light or dark roasts, and even with the difficulty they give me, I still prefer lighter roasts. The flavors are more interesting and easier to pick out.
I'm about half-way through the bag, and I'm starting to pull some pretty consistent and delicious shots. The coffee from Revel Coffee Roasters doesn't stand out like some of the coffees that Craft Coffee has sent me in the past, like Slate Coffee Roasters Yigracheffe or Oren's Daily Roast's Sidamo. It is still delicious, and has been tasting better every day as I tune in the grind and shot time.
I miss the three coffee sampler pack
I wish I could still make good use of the sampler pack. The sampler pack usually had two good coffees along with one outstanding coffee. I now worry that I'm missing out on that one amazing coffee each month.
I am now able to consistently pull delicious shots of espresso with my Rancilio Silvia, but it takes me a while to get there. The first shot of espresso from a new bag of coffee usually goes horribly wrong. The second shot is usually drinkable, but not delicious. I'd be likely to burn through an entire four-ounce pouch of coffee from the sampler before pulling a really good shot.
Use my referral code "pat1245" and you'll get 15% off
If you use my referral code (pat1245) when checking out at Craft Coffee, you will get a 15% discount. Not only will you save money, but they tell me I'll get a free month of coffee with every order. That sounds like a good deal for both of us!