This is the second month so far where I've opted to receive a single 12-ounce bag of coffee from the fine folks at Craft Coffee. It is definitely a safer choice now that I'm learning to use my Rancilio Silvia espresso machine, and I've wasted far less coffee this way, but I really miss tasting three different, delicious coffees every month.
Tasting them is always enjoyable, and it is much easier to write about three different coffees at the same time. I may have to look into increasing the volume of my subscription!
Thirty-Thirty Coffee, Peoria, IL
Producer
Finca San Luis Oscar Chacon
Origin
Costa Rica
Variety
Caturra, Catuai
Elevation
1,450 Meters
Process
Natural
Tart grapefruit acidity and blueberry jam flavors complement a crisp clean finish in this fruit forward cup.
I really like this coffee from Thirty Thirty. It seems like a pretty well-balanced cup of coffee to me. It is just a little bit tart, but I can easily pick out the blueberry that's mentioned in Craft Coffee's notes.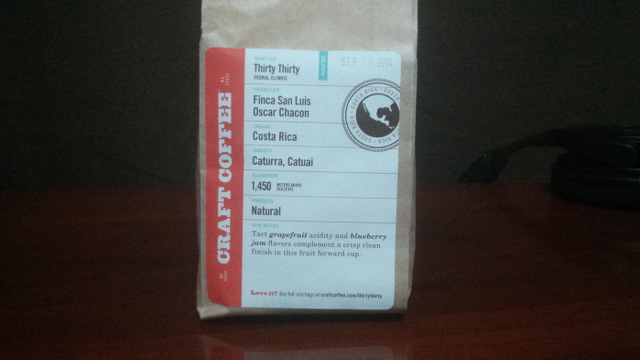 The blueberry flavor reminds me of the Ethiopian Sidamo coffee I received in June from Oren's Daily Roast. It isn't quite the same, though, and I think I can understand why Craft Coffee's description actually says "blueberry jam."
I've actually been pretty successful at making lattes with the Thirty Thirty coffee this month. I only choked [my] Rancilio Silvia]1 on my first pull. The rest were all drinkable. The best double shots of Thirty Thirty that I've pulled were all ristrettos near the 1.5 ounce mark.
Use my referral code "pat1245" and you'll get 15% off
If you use my referral code (pat1245) when checking out at Craft Coffee, you will get a 15% discount. Not only will you save money, but they tell me I'll get a free month of coffee with every order. That sounds like a good deal for both of us!