I've been using my Baratza Preciso for nearly six years. I've had a few problems with it. Nothing major, though. There are plastic parts inside Baratza's grinders that are designed to give way in the event that a rock or an unroasted coffee bean makes its way into the burrs. It is better to smash a $5 piece of plastic than destroy a pair of $80 burrs or wreck your motor.
My wife has been drinking tea for the better part of a year, but she's starting to use her Aeropress again. We often run into a situation where I accidentally have an extra day's worth of bean in the hopper of the Preciso, so moving the grinder up to the Aeropress setting is either wasteful or a pain.
We decided that the simplest thing to do would be to buy another grinder for the kitchen. The first option that popped into my mind was the Baratza Virtuoso. The Virtuoso is nearly identical to my Preciso. It just lacks the micro adjustment wheel.
We opted to save $100 and go with the Baratza Encore.
I didn't expect to be so impressed with the Encore
Like most grinders, the Encore ships without the hopper installed. The upper burr is left out as well. I was surprised that the upper burr looked identical to the burr in my Preciso!
When we ordered the Encore, I didn't really care about the specs. I knew it would do a reasonable job at grinding for Aeropress, French press, and pour over. That's all it needs to do. We already have a grinder for the Rancilio Silvia.
Then I saw that burr, and I got curious. The lower burr is machined differently than the Virtuoso/Preciso lower burr, but it is compatible. You can upgrade the Encore burr to match my Preciso.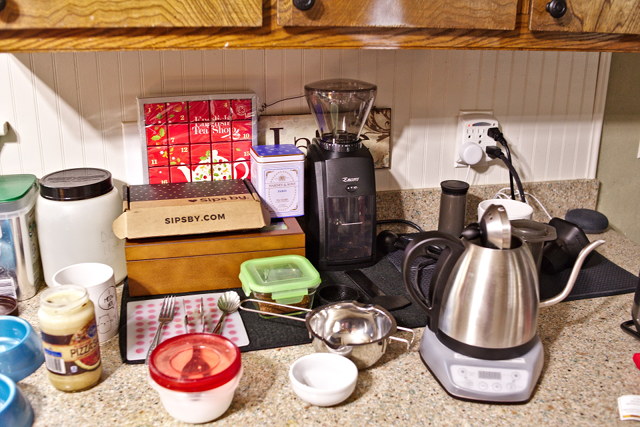 I suppose this is a reasonable option if you don't want to spend $250 on a Virtuoso. You can get comparable grind quality out of an upgraded Encore, but you'll save money on the cheaper casing and smaller motor of the Encore. I don't have a good reason to test this, but it sure sounds like it might be a good value for someone!
Is the Baratza Encore right for you?
If you want to make delicious coffee, you need a burr grinder. If you're on an extremely tight budget, you might be well served by a manual burr grinder like the Hario Mini Mill or Hario Skerton.
The Baratza Encore is one of the most budget-friendly electric grinders with proper conical burrs. That said, it still costs $100 more than a manual grinder.
Unless you're making espresso, the Encore will likely serve you quite well. If you have more room in your budget, it wouldn't be a bad idea to pay more for a Baratza Virtuoso. It was quite obvious that the Encore grinds more slowly than my Baratza Preciso. Maybe the extra speed and small improvement in grind quality is worth the extra $100 to you!
Conclusion
We've only had the Encore for a few days, so I can't tell you much yet about the longevity of the machine. That said, I expect it to hold up as well as my Baratza Preciso has held up over the last six years.
Are you shopping for an entry-level burr grinder? Are you using a Baratza Encore? What do you think of it? Let me know in the comments, or stop by the Butter, What?! Discord server to chat with me about it!