We had our first quadcopter-build event in December at TheLab.ms makerspace in Plano, TX. The budget for that drone build was around $500. That included a 450-size quadcopter, a LiPo battery, a LiPo charger, and a really nice 6-channel controller—the Spektrum DX6. It was a great class, everyone had a good time, and we built and flew four drones that day.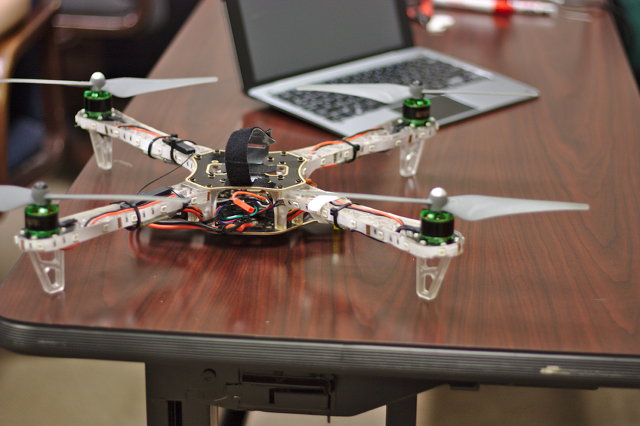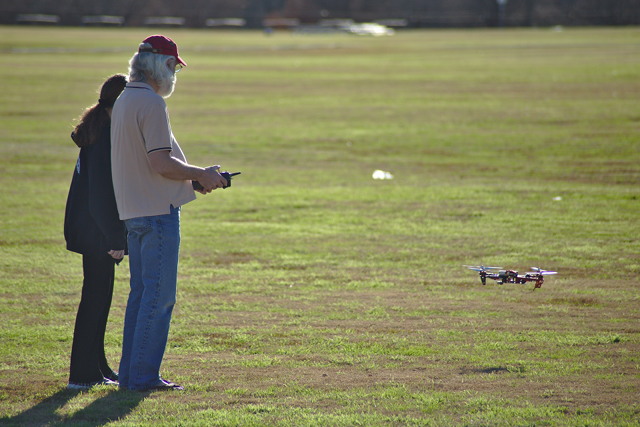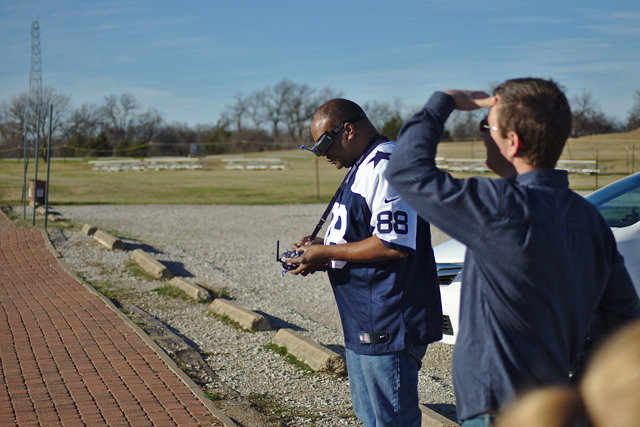 I didn't participate in the class. I've been doing a bad job at working on my own projects lately, so I thought it would be a bad idea to add yet another project to my plate. I did help out at the class, though, and I've been to all our quadcopter flying events—they're fun to photograph! I think Brian got sick of me watching, so he suckered me into the hobby by giving me a Spektrum DX6 radio for Christmas.
I'm too impatient to wait for the next drone-build class at TheLab.ms, so on the instructor's recommendation, I ordered a Blade Nano QX Bind and Fly micro quadcopter. It flies just like our big quadcopters, but it is small enough and gentle enough to fly indoors. This is awesome, because it means I don't have to put on pants and drive to a park just to play with my quadcopter!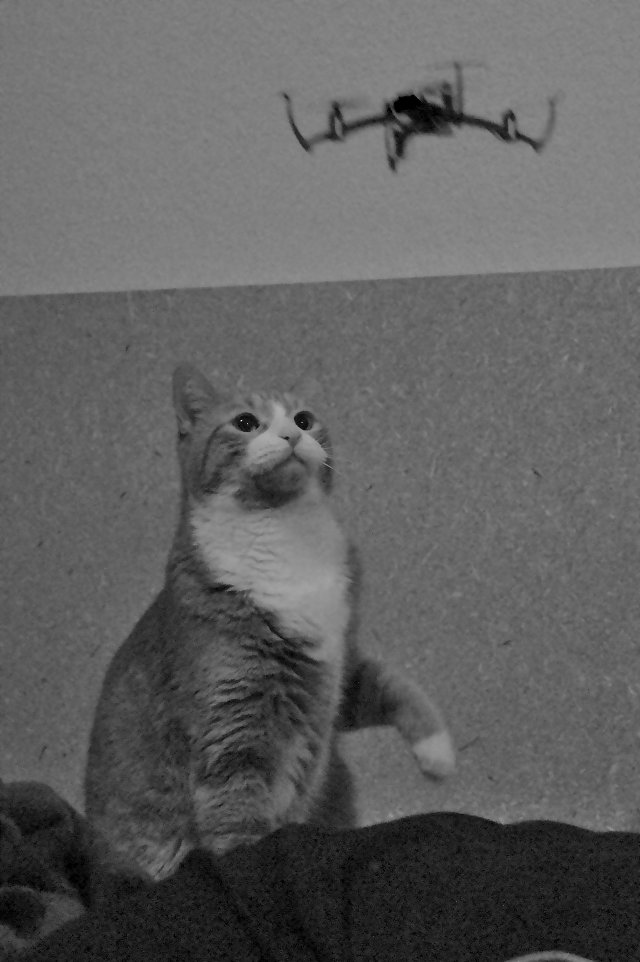 Amazon is amazing. The Blade Nano QX was available with free same-day shipping. I ordered the drone on Sunday night, and I was flying it around the house on Monday afternoon!
The first day or two
They're pretty serious about the "bind and fly" part. It didn't take long to find the bind option in the Spektrum DX6 controller's menu. Once I did, I was up and flying in a matter of seconds!
Before the drone even arrived, I ordered a set of larger LiPo batteries on Brian's recommendation. Unfortunately, they didn't show up until a few days later. The stock battery would last for a little more than five minutes of flying time, then it had to go back in the charger for 30 to 40 minutes. I didn't enjoy that waiting, so I most definitely recommend ordering more batteries right away!
The 200mAh Crazepony batteries are a nice upgrade. The stock Blade Nano QX doesn't start getting sluggish until close to the seven-minute mark, and it usually didn't drop out of the sky until the timer hit 8.5 minutes!
I was flying around the house quite a bit the first day, and our cat Harley really enjoys watching the Blade Nano zipping around the living room. As I got better, I started hovering near Harley while he was sitting on the cat tree. He gets really interested when I try to fly in acrobatic mode, because I have to constantly correct the thing, and it zips around like a giant bug.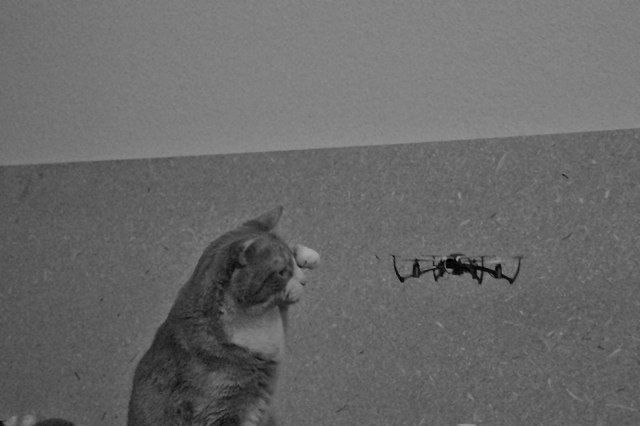 Eventually, he started getting brave, and he finally swatted the quadcopter out of the sky—it was a real King Kong moment! The poor little Nano went spinning out of the sky, and one of his motors went kaput. I was bummed out that I couldn't fly anymore, but this was a perfect excuse for a motor upgrade!
My motor upgrade
The Blade Nano QX uses 6x15mm coreless motors. I ordered a set of six 17,300 Kv Spintech Sidewinder Motors from Amazon for $17—they were available with Prime shipping, but not same day, so I had to wait three whole days to fly again! I don't know how fast the stock motors are, but I'm under the impression that even 14,000 Kv motors are an upgrade. There were lots of motor options on Amazon. These Spintech motors sounded like some of the fastest, and it was only a few bucks more than everyone else's pack of four—having two spares seems prudent to me!
I was worried I might have gone too far. I'd read that the upgraded motors make the Blade Nano QX unstable in stability mode. There is some truth there. It does seem to overcorrect quite often, but you can hear it more than you see it. I feel like I put in more aggressive cams because it sometimes almost sounds like it's loping. It is a small price to pay for the extra power.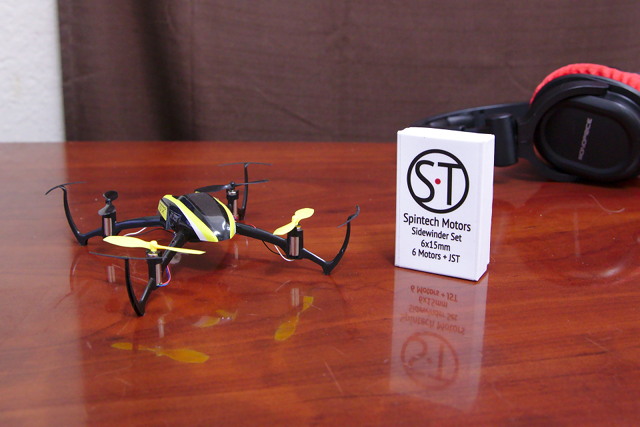 The motors were simple to install. The hardest part was tucking the wires in underneath the arms, but it didn't take long at all.
The new Spintech Sidewinder motors seem fast—really fast! I can't wait to compare this to Brian's Nano in person. I thought I'd gotten pretty good at flying that Nano with the stock motors. The first thing I did with the new motors was smack hard into the ceiling!
I have no equipment to measure the speed of this upgrade. When we modify cars, we have a measuring device that we call the "butt dyno." Small modifications can't be measured with the "butt dyno," but big modifications certainly can. You usually can't actually feel the difference after an exhaust upgrade, but you definitely can feel the difference when you upgrade to a bigger turbocharger!
This upgrade most definitely registers on the "butt dyno." It is a turbocharger upgrade for sure!
The downside of the motor upgrade
The batteries don't last nearly as long with the faster motors. I had set the timer on the Spektrum counting down from 7:40, and the Nano always had a bit of juice left in the tank with the 200 mAh batteries. I've since turned the timer down to 4:40, and the Nano falls out of the sky about 20 seconds later.
It seems to fly almost as long on the stock battery as it did before the motor upgrade, but it doesn't feel as fast. I assume the stock battery just can't supply as much current.
I'm not sure the difference in flight time is quite as big as it seems. The Spektrum DX6 timer defaults to counting down when the throttle is above 25%. The Spintech Sidewinder motors generate lift at a lower throttle position—it starts to lift at about 10% throttle with a fresh battery! While there is definitely a difference in battery life, I don't believe it is as high as three minutes.
Was it a worthwhile upgrade? I think so. I can still fly it in the house, and I imagine the new motors will be tons of fun outside—I haven't tried yet! I don't mind giving up the flight time because I have spare batteries!
No good battery-storage solutions? 3D printing to the rescue!
It seems like every time I step into a new hobby, I end up finding a way to work 3D printing into it—quadcopters haven't been an exception! I'm not 3D printing quadcopters yet, but I did find a solution to a simple problem.
I have all these tiny LiPo batteries now. I know I'll need to carry them around with me, but I didn't have a good way to do that. I wanted to keep them organized, have a way to identify which batteries are charged, and make sure I wouldn't be accidentally shorting any connections.
To my surprise, I couldn't find anything like this on Thingiverse, so I designed my own. I measured the LiPo battery connectors, designed a parametric model in OpenSCAD, and had the print job running in about 20 minutes. The first attempt was too snug, but while it was printing, I came up with the idea of adding a slot for the USB LiPo charger. With any luck, that will keep me from losing the charger!
Why am I using the Spektrum DX6?
I don't have a good answer to this question. The drone-class instructor says it is a top notch controller, and I believe him. All the builders in his class bought a Spektrum DX6, and as far as I can tell, it seems like a great piece of hardware. If your goal is to putter around with an inexpensive micro quadcopter, the price of the Spektrum DX6 sure seems a little extreme.
I want to learn to pilot a proper quadcopter, so I don't think the toy-like controller that ships with the "Ready-to-Fly" version of the Blade Nano QX is a good way to go. I can't recommend any in particular, but Amazon carries a whole slew of 6-channel transmitters in the $50 range.
The Spektrum DXe Transmitter looks like the little brother of my Spektrum DX6. It is still a 6-channel transmitter, but it has fewer switches and no LCD panel and is less than 1/3 the price.
What's next?
I don't think I'm going to build one of the 450mm drones that all my friends are building. I'm having a blast flying around indoors, and I'd like to have something faster and more nimble. These thoughts led me to the RS90 Indoor FPV Quadcopter. The RS90 uses brushless motors, and it has blade guards to protect itself and my home. The video of the RS90 tooling around the house is quite impressive!
Learning about the RS90 also brought the DJ105 Brushless Quadcopter to my attention. The DJ105 isn't much longer than the RS90, but it is a good deal wider. It can accommodate bigger propellers, and the creator's build has more than double the thrust of the RS90! That sounds like a lot of fun, but I have a feeling that the extra size and power might not work well indoors.
The DJ105 sounds pretty sturdy, and I've been looking for an excuse to pick up some nylon filament for my 3D printer.
UPDATE: I designed a parametric 3D-printed nylon quadcopter. I call it the PH145. It uses 3" propellers, 1306 4000KV brushless motors, and a 4S LiPo battery. It is loud, fast, and extremely sturdy! You should check it out!
Should I buy a Blade Nano QX?
There are other options, but I have no experience with them. I'm told the Nano QX was hot and exciting a few years ago. That means there might be newer, better, more exciting micro drones available now. I don't care, though. I like the Blade Nano QX, and so does my buddy Harley.
The Blade Nano QX Bind-N-Fly is a good value. It flies well, and it pairs with DSMX radio controllers, so you can learn to fly a quadcopter with your real controller without worrying about destroying your expensive drone.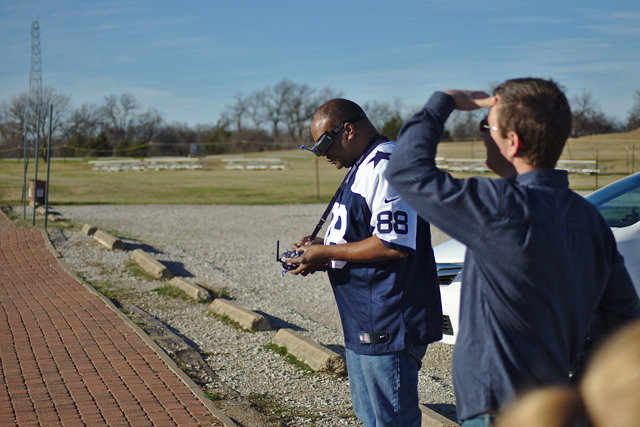 If you want to build something bigger, and you're near Plano, TX, you should stop by TheLab.ms makerspace . They have a community of quadcopter enthusiasts, and they're going to have drone-building classes on a regular basis.