Remember when I posted my FPV quad builds for 2018? I figured I wouldn't be building another quad until the second half of the year, but I just couldn't wait that long. The calendar barely rolled over to April, and I was already building another!
I should start by saying that my pair of OwlRC Dragon quads are still flying great! I did manage to damage one motor on each quad. I was able to keep them both flying fine for a while, but I kept having to enable more and more filtering. I finally gave in, found the bad motors, and replaced them. The notch filters are turned off again, and they're both flying great!
The downtime was disconcerting, though. I pushed the F40 Pro V2 quad's bad motor far enough that it started acting really wonky. By the time I was repairing that quad, the ZMX FinX30 quad wasn't acting quite right, either. I felt like I didn't have anything to fly for over a week. It was time to add a third 5S-capable quad to my bag.
If I built this quad in April, why am I writing about it in June?!
I had a pretty serious hiccup. The Kakute F4 that I used in this build was faulty. On one of my first batteries, I had an extremely gentle crash. I hit the grass, and the motors stopped spinning. The OSD stopped updating. I couldn't arm or disarm. I unplugged the battery, and everything was fine.
I had other similar incidents, but those crashes were usually a bit harder—no harder than the punishment I've put my other Kakute F4 quads through. One day, I was flying under a picnic table, and my GoPro just barely touched the bottom of the seat. The quad fell 6 inches to the ground and had to be power cycled.
Then it started locking up when doing snap flips and rolls. Sporadically at first, but then on almost every flip. I eventually replaced the flight controller, and it is flying great again.
We were in the process of buying and moving into a new house at the end of April and into May. I didn't have as much time as I'd like for flying. I really didn't have enough time to repair a quad, especially when the other two were flying just fine.
At least this was a good excuse to try Butterflight on a Helio Spring flight controller!
The Hyperlite Flowride
Ever since I started flying with a GoPro HERO5 Session, I've been interested in trying a frame that allows for a top-mounted battery. All of my 5" miniquads have had bottom-mounted batteries. That felt fine to me, until I tried strapping a GoPro on top. Rolls and flips felt like spinning a dumbbell. The center of gravity is close to the center, but the bulk of the weight is on the outsides.
It felt terrible on my Shuriken X1. It felt even worse on the less powerful BFight 210. Fortunately for me, my heavy, angry 5S quads have no trouble using their sheer power to muscle themselves through flips and rolls. That's not efficient, though!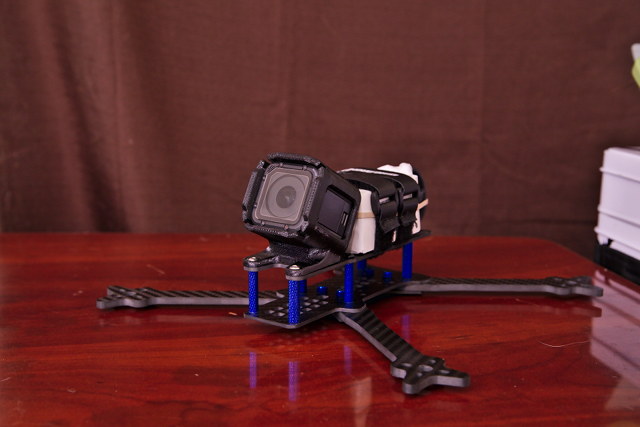 Putting both the battery and GoPro on top may move the center of gravity much closer to the top, but it moves all that weight closer to the center. Snappy flips and rolls are much easier that way.
I decided to order a Hyperlite Flowride. A few days later, the Hyperlite FlosStyle was announced. I'm glad I ordered the Flowride—I wouldn't have had the patience to wait for a FlosStyle! You shouldn't buy a Flowride. Everything I like about the Flowride is done better by the FlosStyle.
I don't have a FlosStyle frame, so I'm going to tell you why I like the Flowride! There's only one reason I can think of to buy a Flowride frame today. If you're still running individual ESCs, the arms on the Flowride are wide enough to fit them.
I thought about this, because it seems like a quick and easy upgrade for my OwlRC Dragon quads!
Why do I like the Flowride?
The Flowride is very much an Alien-style frame. It has the big, bus-like fuselage. The FPV camera sits pretty far forward, so the props won't obscure your view too much. The GoPro mounts directly above the FPV camera, and the 3D-printed Hyperlite GoPro mount is phenomenal.
I don't believe the Flowride has room for a full-size FPV camera. That's fine by me. I've been moving all my quads over to the amazing Runcam Eagle Micro. It is an improvement over the already awesome Eagle 2 and Eagle 2 Pro cameras, but it is about 10 grams lighter, and it takes up so little space!
Like all of Bob Roogi's other frames, the Flowride is extremely well thought out. It is made from high-quality carbon fiber. The arms are quite a bit wider than the FLOSS frames, and that shows in the additional weight. I'm OK with that. My quads have more power than I know what to do with!
The Flowride has a perfect SMA antenna mounting hole on its bottom plate. There is just enough room below the hole to fit a 90-degree SMA elbow. I was thankful for this mounting point when my attempt at using an MMCX Pagoda antenna failed—more on that later!
The full parts list
Here's the parts lists. The total cost for each quadcopter was somewhere around $350.
This is similar to the parts I used in my previous two builds. The only difference is the frame and ESCs. After swapping out the defective part, the flight controller is different, too.
I'm a big fan of the Holybro stack, but it is a little too tall for the Flowride. I wound up using 30 mm standoffs. That gives me enough room for the three boards in the stack.
I'm probably going to need to look for an alternative to the Holybro AtlAtl in the future. There's plenty of room to mount a VTX outside the stack, and all the frames I like are using shorter standoffs. I'd like to bring my center of gravity down 5 mm, but this is working fine for now.
2600 kv motors? On 5S?!
When I built my last pair of quads, I was hedging my bets. I loved my Shuriken X1 with T-Motor F40ii 2600 kv motors. I wanted to improve on and repeat that success. I built those quads to be capable of running on 5S or 6S batteries, but I expected to continue to use 4S packs—2600 kv on 4S feels fantastic.
That's not what happened, though. The benefits of 5S are just too great—they're inexpensive, they don't sag, and they pack even more punch!
I decided to go with T-Motor F40 Pro V2 motors for this new quad. Lower KV motors would be a better match for the batteries I'm running, but I'm trying to make my quads more homogeneous. I already have F40 Pro V2 2600 motors on one of my other quads. Using them again means I can stock fewer spare parts.
I had planned to use the ZMX FinX30 2207 motors on this build, but they're more difficult to source.
2600 kv motors? With 6" props?!
I don't plan on running 6" props on this build, but they do fit. I had some on hand, so I just had to test them!
I have a switch set up on my Taranis X9D+ to limit my maximum throttle. On my 5" quads, I run with an 80% throttle limit. That still packs more punch on 5S than 100% throttle on 4S, and it gives me more resolution on the throttle.
With the bigger props, 2600 KV motors, and a 5S battery, that throttle limit switch is essential. At maximum throttle, I believe the tips of my 5.5" and 6" props are reaching the speed of sound. The noise they make is absolutely terrifying!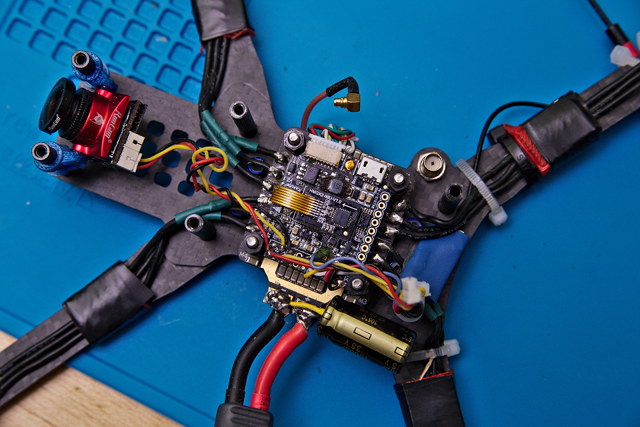 Math tells me that 2600 KV on 5S could reach mach 1.2 at the tips of the props. I am certain that physics gets in the way long before then, but I have also read that propellers get extremely unstable at around mach 0.9.
I'm sure that folks with lower-KV builds have an efficiency advantage over my Flowride quad, but I'm extremely pleased with my flight times. I've managed to finesse a 9-minute flight out of a single 1,300 mAh 5S pack while running HQ 6x3x3 props. As I always do, I headed in for a landing when the battery was at about 3.65 volts per cell.
DAL Cyclone T5544C
I've been running Racekraft props for a long time. I used Racekraft 5046 props on my BFight 210 and Shuriken X1 last year, and I've been running Racekraft 5051 props on my more powerful builds this year. They're great props. I get reasonable flight times, and they pack a punch! However, they aren't all that smooth.
I had a few sets of HQ 5.5x4x3 props left over from a previous experiment, so I tried those first. The only equipment that I've used in testing these props is my butt dyno—I'm not sure that I want accurate scientific data!
The 5.5" props feel like they generate at least as much thrust as the Racekraft 5051, but they feel so much smoother. I don't know if they have as much power on the top-end, but I'm definitely able to fly fast enough for freestyle.
The HQ props felt great, but they seem fragile. I broke three props on my first outing. All three had broken hubs. Two of those props went completely missing.
When I got home, I did some research and discovered the DAL Cyclone T5544C props. I ordered some immediately. Unfortunately, I was already out of 5.5" props before they arrived, so I flew the Flowride with Racekraft 5051 props for an entire day. I would have liked to fly both 5.5" props back to back.
As far as I can tell, the DAL and HQ 5.5" props both feel quite similar. I get similar flight times. They both hit the speed of sound at a similar throttle level. They both had a ton of grip and generate a lot of thrust.
I'm breaking fewer Cyclones. That's a bonus. They seem more likely to bend, and it isn't difficult to straighten them back out. When they do break, though, they are breaking spectacularly.
The Flowride is getting longer flight times
This is the part of my testing that needs more science, and that will take time. In a couple of weeks of flying the Flowride, this is what I've learned.
The Flowride is more efficient than either of my OwlRC Dragon quads. One of the OwlRC Dragon quads is using the same motors as the Flowride. The Flowride has different BLHeli_32 ESCs and a different frame. Everything else is nearly identical.
The first day, I assumed the Flowride was getting more air time due to the longer props. One day, I didn't have enough 5.5" props in my bag, so I put Racekraft 5051 props on the Flowride, and it was staying in the air about 20% longer than my OwlRC Dragon quads.
Later, I discovered that 5.5" props just barely fit on the OwlRC Dragon frame. I couldn't believe it! I've had 5.5" props in my drawer for months. I thought for sure that I tested this. How did I miss it?
On the OwlRC Dragon, the 5.5" props nearly touch in the front and back, but it flies like a dream. Similar punch compared to the Racekraft 5051, but much smoother and more efficient.
Still not as efficient as the Flowride!
With a similar flying style and the same props on each quad, my Flowride will always see about an extra minute of flight time. That's usually around 20% or so.
Why is the Flowride more efficient? The weights on all these quads are pretty close. Am I getting cleaner air due to the much longer arms? Can the Tekko32 ESCs be more efficient than the Wraith32 ESCs? I'm suspecting that the longer arms are the advantage.
This quad is huge
This is the biggest quad I've ever owned or flown in FPV. I don't really notice the extra size while I'm flying. The lower profile with the top-mounted battery seems to make it easier to fit under picnic tables, but I do seem to be bumping props off the sides of gaps more often now.
Every time I crash and do a test flight line of sight, I am amazed at the size. It looks huge compared to my OwlRC Dragon DSX-5 quads.
The larger size has several advantages. You want to fly a nine-minute, long-range mission? Put some 6" props on. Going for top speed? Maybe switch to some moderately aggressive 5" props. Need a good balance of both? Run 5.5" props.
The extra length also seems to provide smoother responses from the quad. Is it due to the extra leverage? Is the air cleaner when the props are spaced farther apart? I imagine it is a combination of both.
The size has a major downside for me. One of my favorite features of my giant Thinktank FPV Airport Helipak backpack is that I can easily fit three 5" quadcopters inside. I don't have to to resort to hanging quads on the outside. I still have enough room for OwlRC Dragon frames with 5.5" props, but the long arms on the Flowride are problematic.
I could take a few dividers out of the bag, but then I won't have space for my Leader 120 micro quad or Ryze Tello. It is a conundrum!
I'm waiting for a good MMCX antenna
I want to eliminate the MMCX to SMA cable on all my quads. Each connector impacts the quality of your signal, and the extra SMA connectors are adding unnecessary weight. Unfortunately, there isn't a lot of variety in antennas that plug directly into MMCX ports.
Half of the options have a 90-degree MMCX connector. Those don't fit my layout very well. There are a few that fit my needs, though, and I decided to try one for this build—a Foxeer Pagoda.
It fit nicely, and it saved me a few grams. Unfortunately, my video feed on my first flight was absolutely atrocious. In my rather gentle attempt to disconnect it from the VTX, the antenna came completely loose from the MMCX connector. It is the first time I've had that happen to an MMCX lead, and I didn't even get a chance to pull very hard at all.
I assume the antenna was defective.
What's next?
I was worried that I'd like the top-mount battery and Tekko32 4-in-1 so much that I'd have to upgrade the other two quads. I'd have to buy a pair of new ESCs, frames, and flight controllers. Sure, I could wire the Tekko32 into the existing AIO flight controllers, but it wouldn't be as clean and simple!
It would cost me another $120 per quadcopter to make the switch. I am relieved that I don't feel the need to spend the money or the time on those upgrades!
I like the top-mount battery, and I like the Flowride frame. It is significantly more rigid than the OwlRC Dragon frames. This surprised me a lot, because I remember thinking the Dragon frame was amazingly strong when I first handled it. Have my constant crashes been taking their toll?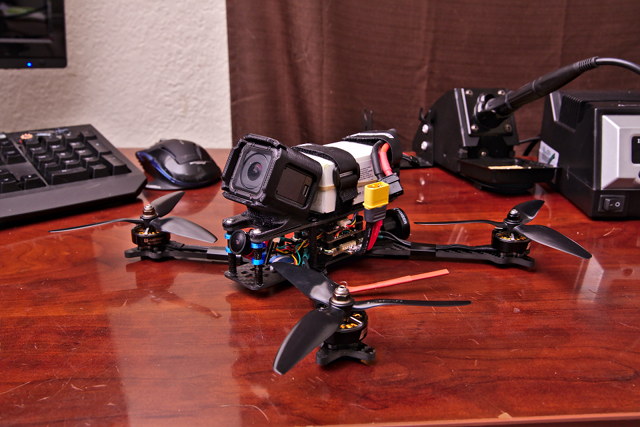 The first time I flew my Flowride build, I was amazed at how clean the video feed was—even at full throttle! I assumed this was entirely due to the upgrade to a Tekko32 ESC. Fortunately for me, that wasn't the case. The Tekko32 definitely provides cleaner video than my Wraith32 ESCs, but part of my OwlRC Dragon's problem has been my choice of props. The Racekraft 5051 props just aren't smooth.
As soon as I discovered that I can fit 5.5" props on my other two quads, my thoughts about immediately upgrading mostly went away. The DAL Cyclone T5544C props are a good enough upgrade for my Dragon quads for now. They're smoother and more powerful. Best of all, all my quads will be running the same props—that makes it easier to keep the drone bag stocked!
If I'm not upgrading frames, flight controllers, or ESCs, then what should I do next?
How's Butterflight working out?
The first quad I installed Butterflight on was my Leader 120, and that went very well. With nearly stock settings, it flew better than my tuned Betaflight. With a bit of tuning, the Leader 120 is flying better than I ever imagined it would.
That was a good enough excuse to try Butterflight on my OwlRC Dragon DSX-5 quads. I overclocked their Kakute F4 flight controllers and ran a 32k/16k loop, and that seemed to work pretty well, at least on the OwlRC quad with QMX motors.
I had a lot more trouble with the F40 quad. That turned out to be a physical problem. The gyro chip on the F40 was touching the VTX. That must have been getting worse over time, and it explained a lot of issues I was having with that quad. I'm guessing the foam is expanding slowly or the adhesive is loosening.
After having my Kakute flight controller on the Flowride on two or three different versions of Betaflight, I figured it was time to give Butterflight a try. It didn't correct my issue, so I upgraded to the Helio Spring.
How is the Helio Spring?
This section and the previous section probably deserve their own blog post, but I can summarize well enough here.
I like it a lot. The layout is quite nice. The VTX pins are near the back, the camera pins are near the front, and it plugged into my Holybro Tekko32 4-in-1 without any problems.
I'm running a 32k/32k PID loop on the Flowride. I left everything pretty close to stock. I added a bit of antigravity and TPA. I don't think I've touched the PIDs. Just about the only tuning I've done is lowering the Q values in the IMU-F.
The Q values default to 3500 on pitch and roll. With those values, I believe I had jello in my GoPro footage. I lowered them to around 1500, and that cleared up the jelly, but the quad gets really unhappy with even the slightest bit of damage to the 5.5" props. It starts with jello, but a slight bend of a prop was making my motors get quite hot.
I believe I am currently around a Q value of 800 on pitch and roll, and a Q of 500 or so on yaw. This is lowering the trust in the gyro. I still get jello if my props aren't perfect, but at least it isn't trying to vibrate the motors to death!
TBS Crossfire
I've been talking about upgrading to TBS Crossfire for weeks. I wanted the Crossfire Micro TX for my Taranis X9D+, but they've been out of stock. I thought about spending more on the full-size module, but that thing is huge. I don't need its additional features, and I don't want my transmitter gaining so much extra bulk.
Crossfire Micro TX modules are finally in stock again. The Micro TX module and a trio of Nano RX modules were delivered just now. How am I managing to continue writing this blog post when I could be setting up Crossfire on all my quads? The answer is simple. I'm not home right now, and I won't be for a couple of hours!
I'm starting to push myself far enough that failsafes are becoming an issue. I haven't had many full failsafes lately, but I have lost connectivity for a fraction of a second on a number of scary occasions. Whenever that happens, my confidence level drops.
Should I try that power loop? Maybe not. I almost failsafed on my last battery. What if I failsafe at the top of the loop? What if I failsafe and fly into someone?
I'm not that interested in flying long range. I am very interested in keeping my confidence level up. It sounds like I'll have a very hard time losing connectivity with Crossfire at the distances I currently fly. Having one less thing to worry about is easily worth the $250 I had to pay for a transmitter and receivers.
I will definitely have to try flying long range. If I have the equipment, why not make an attempt!
Conclusion
The Hyperlite Flowride is an excellent frame at an amazing price, but it has been superseded by the Hyperlite FlosStyle. I like the Flowride a lot, but I wouldn't buy another. I'd go with the FlosStyle at this point.
Are you flying a Flowride, FLOSS, or FlosStyle quad? What do you think of it? Tell us about it in the comments, or stop by our Discord server and let us know what you think!