These projects keep moving along faster than I expect. I thought I had a few months at my disposal when I started designing my previous open-source frame. I started the design work in January, and I didn't expect to be placing an order for my Shapeoko CNC machine until March. It didn't work out that way. I ordered the Shapeoko before January was over, and I had it up, running, and cutting carbon fiber in less than two weeks.
The maiden flight of my #opensource 6" Falcon FPV freestyle frame went exactly as I expected. It flies just fine! Will it crash well? Probably, but I need a clean frame for some video and photographs today! pic.twitter.com/5imrSZt9tO

— Pat Regan (@patsheadcom) July 22, 2019
The same sort of thing seems to be happening with my new frame. I'm not in a hurry. I figured the first prototype wouldn't be cut for at least a month, but the design was starting to look relatively complete rather quickly! I cut a prototype on a Saturday evening, transplanted one of my working freestyle quad's guts over to that frame on Sunday evening, and I was out for a test flight on Monday.
Yet Another 5" Freestyle Miniquad Frame
Why am I designing a 5" freestyle frame? I'm quite pleased with the Hyperlite Flowride quads I've been flying. The Hyperlite Glide looks fantastic. They're all reasonably priced, sturdy, and extremely well-thought-out frames. Does the world really need another frame?
My motivation was quite simple. I own a CNC machine. I can cut carbon fiber. I have experience designing things, and I enjoy design projects. It just seemed like something I just had to do!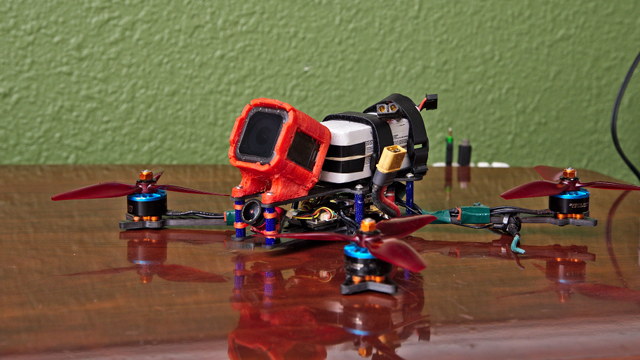 I don't feel like my frame design is all that innovative, but I'm starting to think that I'm at least starting down the path towards innovation. I'm bringing together design elements that I like from several sources. I'm also excited that my design wound up offering three different styles of freestyle frame, but so many of the parts are compatible between each configuration.
In any case, the world needs more open-source miniquad gear!
Why is it called the Falcon?
My previous frame is called the Kestrel. Since it is meant to carry an HD camera like a Caddx Turtle or Runcam Split, I thought it would be appropriate to name it after a bird with good eyesight. Runcam is already using eagles and owls in the names of some of my favorite cameras, so they were scratched off my list quickly.
Then I noticed a news blurb about an injured American kestrel being released back into the wild at a park near my house. Kestrels are tiny falcons. Falcons are birds of prey. Birds of prey have keen vision. This all tied together really well, didn't it?
I tried my best, but I couldn't find any other specific falcon with a moniker that I found pleasing. So I took the lazy way out. The Kestrel's bigger, heavier, fatter, tougher sibling is going to be called the Falcon.
What features drove the design?
The Falcon needed to be something that I want to fly, so all of the initial guesstimates for measurements came from my 6" Hyperlite Flowride. I fly 5" props on a 6" frame. I don't need a compact frame, I enjoy the way it feels, and I like having the option to use 5.5" or 6" props when needed.
I borrowed the TPU GoPro mounting holes from the Hyperlite Floss, Flowride, and FlosStyle. There were going to be two standoffs about that far apart anyway, and adding a third hole in the right spot was easy. I have so many of the TPU mounts printed already, so I may as well be able to use them!
I'm doing the boring work while I drink my latte today. I created an additional config file for the Kestrels and Falcons, so I'm no longer repeating myself in each arm configuration file. I'm also smoothing out the build script a bit. #OpenSource #fpv pic.twitter.com/8bq8N1d9xE

— Pat Regan (@patsheadcom) July 23, 2019
The Flowride has room up front between the camera and stack for my VTX, but it doesn't have holes for a 20x20 stack up there. I wanted to correct that situation.
I like modern frames with room for three stacks: a 20x20 up front, holes for either a 20x20 or 30.5x30.5 in the center, and another 20x20 in the rear. I don't think I need three stacks, though, but I want the option to be available.
I really enjoyed the idea that the Hyperlite FlosStyle used the same plate for the top and bottom of the quad. I wanted to do the same, but I was worried about getting the battery straps into the right position.
Stop talking about what you were thinking, Pat! Just tell me about the Falcon already!
Is this where I give the elevator pitch? The Falcon is an open source, parametric, freestyle miniquad frame. It has one of those familiar, long fuselages that you see on most freestyle miniquad frames, and it has 5" or 6" arms in a true-X configuration. The arms are fully parametric, so you can easily cut them to any length, any angle, or scale the mounts for any motor configuration you can think of.
I settled in on three different top-plate configurations. Any of the three plates can be used as a top or bottom plate.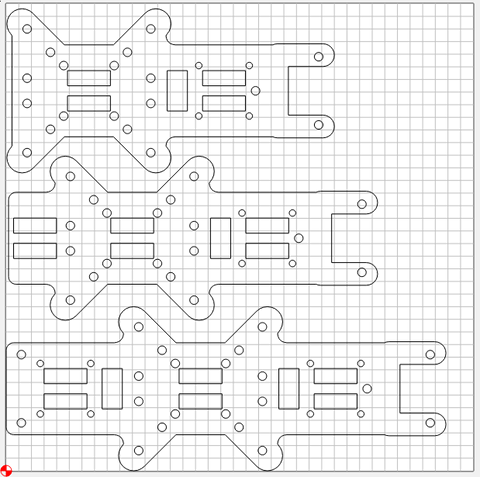 The full-size plate would remind you of the Hyperlite FlosStyle. It has room for three stacks and two battery straps. I haven't cut one of these yet to see if I'm truly happy with where the rear battery strap sits!
The fully truncated plate has room for two stacks and one battery strap. I'm using this as the bottom plate on my prototype.
The partially truncated plate has room for two stacks and two battery straps. I'm using this as the top plate on my prototype.
Using a combination of the partially and fully truncated plates gives you a layout similar to a Hyperlite Flowride. If your goal is to save weight, using a partially truncated bottom plate won't make much sense. If your goal is to stock fewer spare parts, flying with a few extra grams might not matter to you. Choice is good, right?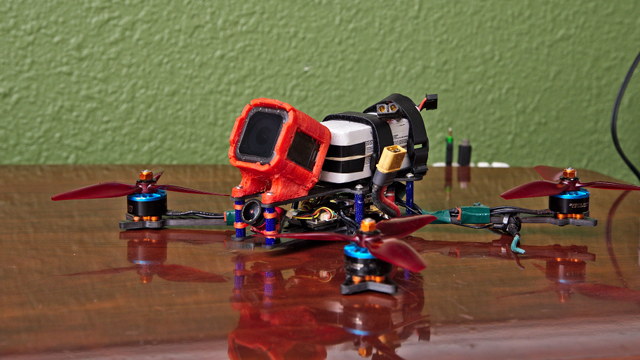 So far, I've configured two sets of arms. Both the 5" and 6" arms are at perfect 45-degree angles, and they have 16mm hole spacing on the motor mounts. This is the first time I've flown a true-X quad in a long, long time!
The frame only has room for micro FPV cameras, and the camera is held in place with small TPU mounts. This is by far my favorite camera configuration.
I dislike frames with carbon fiber side plates holding the camera, because they limit your options so much. If I want to slam my deck, I can just swap in shorter standoffs. If some important piece of hardware won't quite fit, I can swap in taller standoffs. I don't have to worry about a piece of carbon fitting in place!
Are you going to have these manufactured?
I doubt it. There's little reason to compete with KababFPV. He's selling fantastic frames at great prices. The Flowride is $45, and it is cut from high-quality carbon fiber. At my scale, it would likely cost me $35 or more to have each frame manufactured, and that isn't including standoffs, screws, and the tiny TPU mount for the FPV camera.
I can't compete, and I'm not sure I would want to. I am still thinking about having the Kestrel manufactured. The sub-250 gram market is growing, and I believe the Kestrel is still a fairly unique offering. I might have to figure this out!
Is the Falcon really open-source?!
Yes! It is. In fact, the Falcon and the Kestrel are derived from the very same piece of source code!
This made the early work a bit harder, but I quickly realized that the Kestrel and Falcon are more alike than they are different. The arms are identical aside from a single cylinder that's cut out of the Kestrel's arms!
Instead of copying the duplicated functions out of the Kestrel, I thought it would be less work in the long term if the Falcon was built right on top of the Kestrel.
I think the work was worth the effort, but it made me a bit of a liar for a while! I didn't want to break the Kestrel when pushing the Falcon up to Gitlab, so I wasn't doing it very often.
That situation has been corrected. The frames coexist quite nicely now. The build script has been cleaned up well enough. The exact parts I cut for my prototype are currently available on Gitlab. There are a few minor problems I need to correct, but nothing that is keeping me out of the air!
You can check out the source code on Gitlab. I would appreciate any sharing and liking you might want to help me out with over there!
What's next?
I came up with a new idea as I was writing this blog post. Maybe I need to include a set of racing-style plates for the fuselage?
I quite like the idea that the FlosStyle freestyle uses the same arms as the Floss racing frame. Wouldn't it be awesome if the Floss, Flowride, FlosStyle, and Glide all used compatible arms?
I completely understand why they don't, but I'm at a point in the design process where I can make that happen. The arm mounts are definitely not finalized yet. Once the Falcon hits version 1.0, I'd like to set that configuration in stone.
There are a couple of problems I need to correct. There are tiny holes in the arm-bracing plate on the bottom of the quad. These holes are there to let you tighten the screws in your stack. I made the holes too small! My 2mm hex driver doesn't fit! This will be an easy fix.
The carbon of the top plate sits a little too far forward of the front standoffs. You can see it in frame in your goggles! This is also easy to fix. I took a guess at how far the frame should extend past the standoffs. My guess was a bit off!
I want to adjust the arms of both the Falcon and Kestrel. For either frame, you define an arm width in the configuration. For the Falcon, that is currently 12mm. It will be 12mm from the base of the arm right up to the motor.
When an arm breaks, I would prefer that it not break right at the motor. That's a good way to destroy the motor wires when they get pinched between the carbon and the bell! I plan to add a slight taper near the middle of the arm. With any luck, they'll break at the weak point!
Conclusion
I'm excited. I designed a 5" freestyle frame. I cut a 5" freestyle frame. I am flying my very own 5" freestyle frame. It feels great!
If you want to know more about the Falcon and the Kestrel, there's plenty to read about here on my blog, but I'm also posting smaller updates on my progress over at Patreon.
What do you think? Am I on the right track? Do you like where I'm headed? Is this the sort of thing you'd like to fly? Let me know in the comments, or stop by the Butter, What?! Discord server to chat with me about it!
Recovered kestrel released in Oak Point Park"