If you came here looking for the short answer, I'm just going to give it to you. Yes. Absolutely. If you're already building a high-end racing quad, it may only cost you a few extra dollars to use ESCs that support up to a 6S LiPo. I'm now running low-end 5S LiPos on both of my favorite quads with 2600 KV motors. I don't expect to go back to 4S!
That's the tl;dr. If I were you, I'd want a deeper explanation. I am not at the end of this experiment yet, but I'm pleased with the results. My first flight on 5S put a big enough grin on my face that I went home and ordered four more. I'm going to walk you through my journey and thought process. You can tell me what you think of my progress in the comments!
Choosing ESCs for my T-Motor F40 Pro V2 2600 KV quad
My build didn't start out with F40 Pro motors in mind. I had a set of T-Motor F40ii motors from my dead Shuriken X1, and I thought they needed a new home. They're strong, sturdy motors. I didn't want to see them go to waste.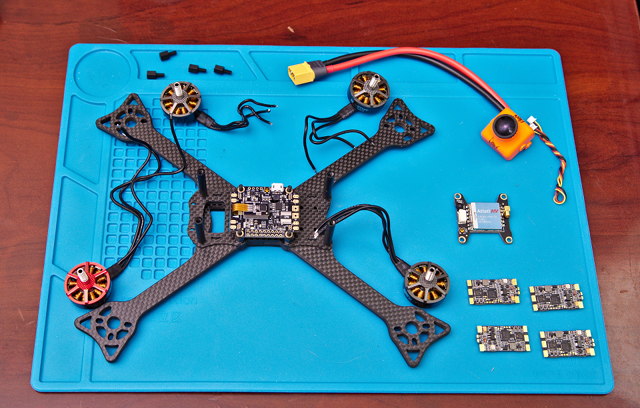 This is what I ordered.
I reused the Runcam Eagle 2 and the stock 30a ESCs from the Shuriken X1. It flew just fine, but it was just awful. I couldn't get clean video out of it. Not even close.
I figured my old ESCs might have been noisy, so I added a capacitor. That didn't work, so I decided to replace the ESCs. I chose 35a Wraith32 ESCs. They were only a few dollars more than other BLHeli_32 ESCs, but they also happened to support 6S. They didn't fix the video problem, but now all my hardware was safe to use with 5S or 6S!
I continued to fly it even with the video problem—it was still a fast, angry quad, but it wasn't much fun with the horrible video. I was guessing I had an unbalanced motor, so I started waiting patiently for the T-Motor F40 Pro V2 motors to be released.
The fresh motors cleared up the problem. My video still isn't perfect at full throttle, but it is more than flyable. I now had a quad that could run on higher-voltage batteries, and I was excited. I couldn't wait to try some!
I have two similar quads now that I run on 5S. One has F40 Pro V2 2600 KV motors, a Runcam Eagle 2 Pro, and a Holybro Kakute F4 V2. The other has ZMX FinX30 2600 KV motors, a Runcam Eagle 2, and a Holybro Kakute F4 V1.
Why 5S?
I built this quad on the assumption that 5S or 6S would be problematic. I figured I'd try 5S, and it'd be fun to show off, but ridiculous or too expensive to fly regularly. I chose high KV motors because I enjoy flying with them. I was hedging my bets. I wanted something that would fly great with my existing 4S packs, but I knew that could be a problem at higher voltages.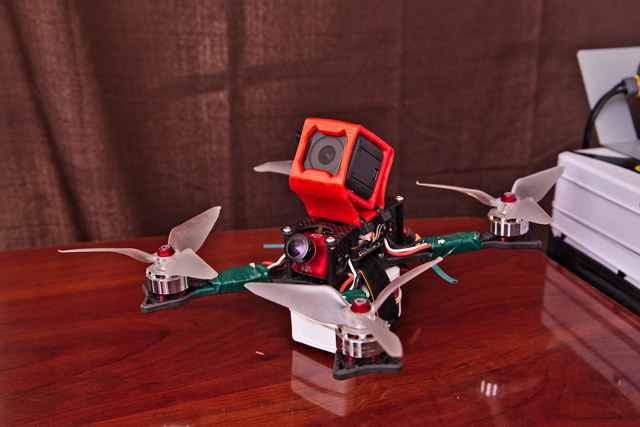 I still wanted to try 5S batteries, and I'm glad I did. At full throttle, these two quads have ridiculous power. Spectators always have something to say when I start hitting the throttle and screaming across the field.
Watching some of KababFPV's videos encouraged me to add a throttle limit to my Taranis. Setting the throttle limit to 75 or 80 percent on 5S doesn't seem to impact my acceleration or top speed in any significant or noticeable way, but it does give me extra usable range on my throttle stick and more flight time.
Cheap 5S batteries are better than premium 4S batteries!
I was confident that this would be true, but seeing the voltage numbers on my OSD and doing the math was still surprising.
I've been running CNHL 1300 mAh 70C 5S LiPo batteries. At the time I ordered, they were $22.99 each with free shipping. I bought four.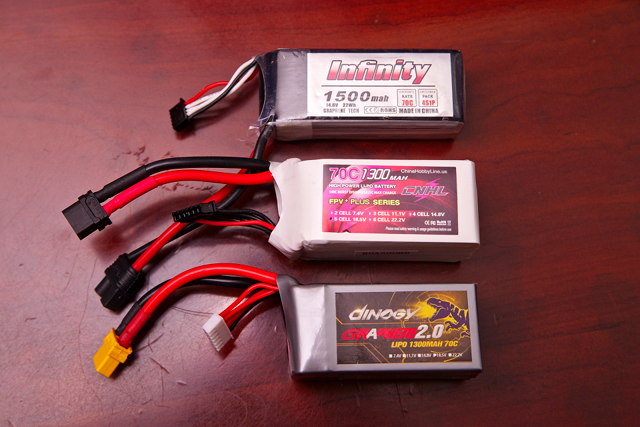 The longer you're in the air, the more your battery tends to sag when you punch the throttle. I am not an aggressive pilot, but I enjoy collecting data for science. When these batteries get low, and I punch the throttle, they sag down to around 3.1 volts per cell.
If my 4S LiPos drop that low, they're only delivering 12.4 volts. When the 5S dip that low, they're still delivering 15.5 volts. That's the kind of voltage you'll see while cruising around on a 4S!
What does this mean in practice? I have more punch with my 75% throttle limit on 5S than I ever had on 4S. I also have more punch on a nearly depleted 5S than you can ever get out of a fresh 4S. How awesome is that?
The best part is, the 5S batteries are cheap! You can spend $40 or more on a Tattu R-Line battery in an attempt keep your sags above 13 volts, or you can spend $25 or less on low-end 5S batteries that won't drop below 15 volts.
Batteries will be cheaper, but what will this really cost me?
If you're already using premium parts in your build, then ensuring that your build can run on 5S or 6S batteries doesn't cost much more. Runcam cameras can accept much more voltage than 6S. My Holybro Kakute F4 flight controllers can handle 6S, and it is the same flight controller Joshua Bardwell used to test Betaflight 3.3's Kalman filters.
The Holybro AtlAtl is a solid VTX that can be controlled by Betaflight, and it has no problem with a 6S input.
I already had all these parts on hand. The only thing I had to do was choose ESCs that support 6S. There are plenty of choices, but my Wraith32 ESCs are only about $15 each, and I was able to get a set of four with free 2-day shipping from Amazon.
I could have saved $10 or $20 by choosing different BLHeli_32 ESCs that could only operate at 4S. That seems like a small price to pay for this big performance bump.
Why not 6S?
I plan to try 6S. My friend Brian is working on a low-KV 6" build using 6S batteries. I've plugged his batteries into one of my quads, and nothing exploded. I even flew a bit using one of those batteries on my old T-Motor F40ii motors. It was awful! The quad was extremely twitchy and didn't even seem happy at half throttle.
I just told Brian to remind me to try one of his 6S next time we're flying. I don't think it will be the right choice for me, but I want to see how it feels now that my quad has a better tune!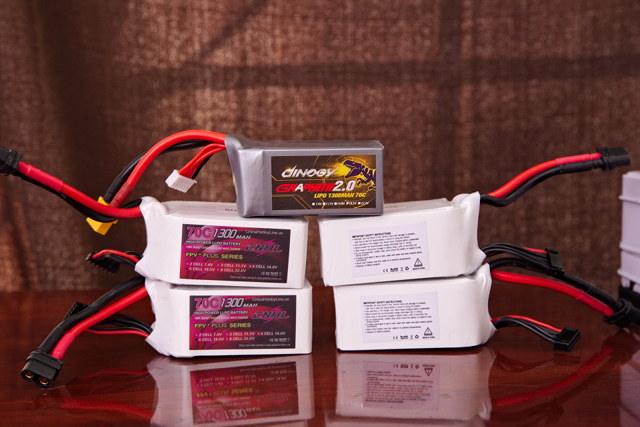 All my motors are 2600 KV. I'm surprised and impressed that my motors barely heat up even after a spirited run on 5S. They're not cold, but if I ate a slice of pizza at that temperature, I might say it was a cold slice. Not quite room temperature, but not nearly as hot as my phone feels when playing Neon Chrome.
This may seem obvious, but a 5S LiPo can push your motors 25% harder than a 4S. A 6S LiPo can push the motor 20% harder than a 5S and 50% harder than a 4S. A 50% increase power in huge.
I've also been helping Brian find 6S LiPos for his experiment. They aren't cheap, and the selection isn't all that wide. The selection of 5S options may not be plentiful either, but I quickly found two inexpensive and appropriately sized options for my quads.
What is VBAT compensation?
I feel dumb. I always assumed the VBAT compensation on the PID tuning tab was meant for sagging batteries. I used to turn it off.
I've since learned that it works surprisingly well when switching between 4S and 5S batteries. I have enabled VBAT compensation, and I tuned my PIDs in when running on 5S. Even when I switch to a 4S, the quad still feels nearly as locked in as when I'm running 5S. I'm hoping the same will be true next time I try one of Brian's 6S LiPos!
Which 5S am I running?
My bag is full of Infinity 1500 mAh graphene 4S LiPos. They've served me well. They are not only inexpensive, but they're also the best 4S LiPos I've ever tried. The runner-up for me were the Venom 1300 mAh 4S. The Venom batteries cost a lot more, and they would sag quite a bit deeper.
I couldn't find any appropriately sized Infinity 5S LiPos. I wanted a 5S with a capacity comparable to my existing 1500 mAh 4S packs. If you do the math, a 1500 mAh 4S and 1200 mAh 5S have a similar Watt hour rating. You can also be lazy like me and assume weight is equivalent to capacity.
My batteries:
My first test battery was the 5S Dinogy 1300 mAh. It is a fine battery. It cost $24.99 with free shipping. Its weight is about the same as my Infinity batteries. My first flights were fast, fun, and it seemed like my flight times would even be higher on 5S. I was already convinced that 5S would be my future, so I went to order more!
The price had gone up to $27.99 since my original order, and I knew it would take three weeks for the new batteries to arrive. I didn't want to pay more, and I didn't want to wait that long. It was time to start shopping around for other options.
I found the CNHL 1300 mAh 5S for $22.99 on ChinaHobbyLine's website. They have free shipping on orders over $50, they ship from the US, and they use USPS Priority Mail. I ordered four batteries on a Friday, and I had them on Monday or Tuesday. Why on Earth did I order four batteries? I should have ordered five. That would be enough to fill my parallel charging board to capacity with 5S batteries.
What if I want a 4-in-1 ESC?
I've been thinking about upgrading my BFight 210. I already broke the frame and moved the guts to a 6" FLOSS 2 ultralight frame. I thought it might be fun to try some ZMX FinX23 motors, and if I go that route, it might be nice to have the option of running my 5S LiPos on there.
The arms on the FLOSS frames are quite narrow, so I will have to shop around for a 6S-capable 4-in-1 ESC board. There isn't a big selection of 4-in-1, 6S-capable, BLHeli_32 ESC boards. They're out there, though, so you shouldn't have much trouble finding one for your build.
I keep hearing that the current crop of 4-in-1 boards don't hold up well with 6S if you push them too hard. The racing leagues are now allowing 5S and 6S batteries, so I expect there will be a lot of improvement here in the near future!
More voltage translates to increased efficiency
This statement is factually correct, but I haven't been able to collect much data. Our weather here this winter has been near freezing one weekend, then 70 degrees the next. Batteries work poorly when they're cold.
Flight times are amazing on the warm days, and poor on the cold ones. This has been making comparisons more difficult. I may not have enough data for a solid conclusion, and my 4S and 5S LiPos aren't as directly comparable as I'd like. My CNHL 1300 mAh 5S LiPos are 19% heavier than my 4S, and they tend to stay in the air roughly 20% longer. That almost makes me want to chalk the longer flight times up to the increased capacity. The Dinogy 1300 mAh are almost as light as my Infinity 4S 1500 mAh packs, but I want to say they fly about as long as the CNHL packs. I need to fly more to confirm that.
Here comes the convoluted bit. My quads have significantly more pep with an 80% throttle cap on 5S than with no throttle cap on 4S. With these throttle settings, carrying a GoPro Session 5 with a 5S feels much like running a 4S without the added weight of the camera.
What about carrying a GoPro on 4S? It flies adequately with the extra camera weight on 4S, but the 1300 mAh 5S is able to stay in the air longer. My few 4S runs with the GoPro lasted three to four minutes. The 5S usually lasts five minutes.
It is awesome to finally carry a GoPro!
So far, being able to comfortably carry a GoPro Session is my favorite part about my 5S upgrade. I've tried carrying action cameras before, and I always hated it. I tried strapping a camera to my Shuriken X1 several times. No matter what I did, it always felt like a boat. It felt more like a truck than a sports car.
My new T-Motor F40 Pro v2 and ZMX FinX30 motors are both so much more powerful than the motors on the Shuriken X1. Even on 4S, the quads still feel great, but the 5S really opens them up!
Both sets of new motors produce more power than I can currently make use of. Even if I were still running 4S, I still would have attempted flying with a GoPro Session. I'd like to think I'd have been pleased enough with the performance. I bet the Session would have still become a permanent fixture on my quads.
But thank goodness I don't have to settle for the 4S performance and flight times! I'm finally carrying a GoPro, and I'm finally able to record awesome footage, and even with the extra weight, my quads are faster than ever before. How awesome is that?!
Final thoughts
I couldn't be happier with my upgrade to 5S. I built these quads with the intention of running my existing 4S packs, and I'm stoked that they both perform so well on 5S. Their motors aren't getting warm, they have so much more punch, and their flight times have improved.
I don't have to buy expensive Tattu R-Line 95C batteries for $40 in an attempt to squeeze every last bit of performance out of my quads. I can almost buy two 5S batteries for the price of a single 100C R-Line battery, and the 5S will outperform the R-Line in every way without even being pushed to its limits.
If most of your build will support 5S or 6S, then you should absolutely choose 5S- or 6S-compatible parts for the rest of your build. The boost in performance is so much fun, and being able to buy cheaper batteries will lead to big savings over the long term.
I'm still in the early stages of this experiment, but I like where things are going!
Are you running 5S or 6S on high-KV motors? Do your experiences match mine? Or are you running 6S on low-KV motors? I'd love to hear your thoughts in the comments!