UPDATE: I'm designing an open-source 3" HD micro FPV quadcopter frame. I call it the Kestrel. You should check it out!
I started flying FPV quadcopters back in January. That was nearly ten months ago, and I was using a Spektrum DX6. My friend Brian bought a Spektrum transmitter last year to use with the 450mm quadcopter he was building. I didn't build one of the 450mm quadcopters, but I kept saying that I'd kept saying I'd eventually build and FPV drone.
Brian must have gotten sick of waiting for me, because he bought me a Spektrum DX6 for Christmas. I've been using that transmitter until recently, and it has served me fairly well.
The Spektrum DX6 is user friendly, but it hasn't been ideal. I didn't have telemetry. I didn't have any sort of RSSI feedback. And lately, I've been seeing more and more failsafes on my quad.
Switch to FrSky or buy new DSMX receivers?
All my drones have cheap DSMX receivers. Most of them worked well when they were new, but I've been having random problems during the last month or so. I figured I could solve my problem with new, name-brand receivers.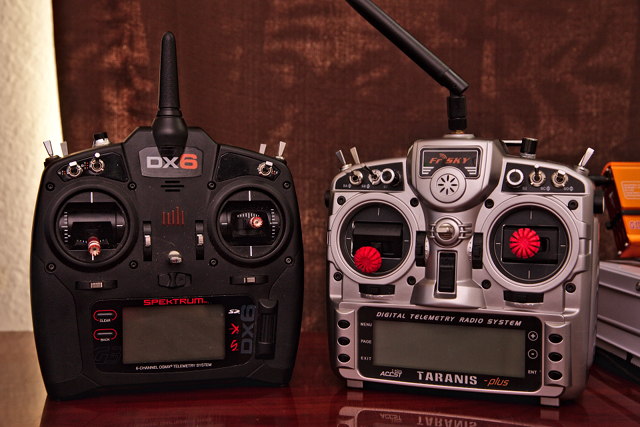 There aren't many people in the FPV racing or freestyle communities use Spektrum equipment. I checked out Le Drib's YouTube channel. He flies with Spektrum gear, and he recommends a $40 receiver. I'm sure it is a fine receiver, but I would need at least three or four for them, and it looks too large to fit on my KingKong 90GT!
So I was staring at $150 to $200 worth of receivers, and wondering if they'd actually solve my problem. I didn't like this idea.
I ended up spending a total of about $350 on a Taranis X9D+ and five tiny R-XSR FrSky receiver modules. I could have saved about $50 if I was patient, but I wanted these parts to arrive quickly, so I ordered them from Amazon with Prime shipping.
I could have saved $150 to $200 if I just bought nice receivers for my Spektrum radio. That may have fixed my problem, but it seemed like a lot of money to spend without getting a real upgrade.
The R-XSR modules are tiny, and I had no trouble fitting one on my KingKong 90GT. They also support telemetry. Six months ago, I would have thought telemetry was stupid—I can see everything I need in my goggles! I didn't know that you can set your PIDs and VTX channel from your Taranis radio. For the Lua script to work, you need telemetry.
I also have a working RSSI readout, which is just amazing to me!
Why the Taranis X9D+? Why not the Taranis Q X7?
I don't like the way the Taranis Q X7 feels in my hands. It is angular instead of rounded, and I feel like I have to reach farther for the switches.
The Taranis Q X7 is a fine radio. In fact, I've been recommending it to everyone participating in TheLab.ms's FPV racing drone build. The price is great, it is every bit as capable as the Taranix X9D Plus, and you only need a USB cable to practice in the simulators.
The feel of the Taranis X9D+ was all the reason I needed to spend the extra $80. Since owning one, though, I've come up with some good reasons to skip the Taranis Q X7.
The Taranis Q X7 takes AA batteries. I'm not entirely against this. I have plenty of Amazon's Eneloop clones. I have enough AA batteries that I can carry a spare set just in case the transmitter goes dead in the field.
The X9D+ comes with a battery pack and a built in charger. It lasts a long time, and I just need to remember to plug the radio into the wall after I go out flying a few times. A similar battery pack for the Q X7 will set you back about $20. That helps narrow the difference in price, and the Q X7 still won't have a built in charger.
The Taranis X9D+ has a bigger, higher resolution display. I also prefer the 6-button interface over the QX 7's wheel.
Why not the Taranis X9D+ Special Edition?
I have to say I was tempted. The Special Edition is a good value. It includes the hall-effect gimbals, a removable SMA antenna, and upgraded switches. If you're into flashy accessories, the Taranis X9D Plus Special Edition is available in an assortment of colorful shells.
These are things I would enjoy having. Except for the bling. I don't need the bling.
There were no Special Editions available at Amazon, and I was in a hurry. At any rate, replacing the gimbals and upgrading the antenna will make for good blog posts in the future!
You can't go wrong with the [Taranis X9D+ Special Edition][xd9se]. I believe it is worth every penny. Don't worry. If you buy a Taranis SE, I won't be jealous for long. I will catch up to you in the near future!
R-XSR vs XM-PLUS
I'm told the XM-PLUS is a fine FrSky receiver, and it costs $10 less than the R-XSR. The XM-Plus doesn't support telemetry, while the R-XSR does.
I was going to buy an XM-Plus for my KingKong 90GT. I don't think it has a pin to connect the telemetry, and it doesn't even have an OSD. I didn't think there was much point in putting the R-XSR on there.
Brian talked me out of it. When my upgraded 90GT finally dies, I will likely replace it with something more modern, and I bet that replacement will support telemetry and have an OSD. Why buy an XM-Plus that I'll never want to use on another drone?
The R-XSR is ridiculously tiny, supports telemetry, and it comes with a pair of diversity antennas. I chose the model with removable antennas—I've already broken two or three antennas in the past!
I'm a fan of Joshua Bardwell's method of attaching antennas. He uses a zip tie and some heat shrink tubing to attach antennas to the quadcopters arms. The antennas on the R-XSR module were just long enough for me to accomplish this on both my Shuriken X1 and my BFight 210.
Taranis does what Spektrum don't
I've only had the Taranis X9D+ for a few days, and I feel like I'm only scratching the surface of what it can do. These are some of the things I'm already doing with my Taranis X9D that I couldn't do with my Spektrum DX6:
RSSI display in my goggles
RSSI display on my radio
audible RSSI warnings on my radio
Volume control knob on my radio
Custom WAV files
PID tuning on the radio's display
10 additional channels for less money
Two of those are stretching the truth. I have the PID tuning script on my Taranis X9D+, but I am a dope, and I didn't hook up the telemetry wire on any of my drones, so I can't actually use it. I plan to correct this situation soon!
I could have added custom audio to my Spektrum DX6, but it was a pain in the ass. You need to use some special utility from Spektrum to convert the files and manage your database of sounds. That software is for Windows, and I use Linux, so that wasn't worth the effort for me. With the Taranis, you just need to copy a 16 KHz or 32KHz mono WAV file to an SD Card. It doesn't get much simpler than that!
I keep mentioning the various RSSI displays. I couldn't be more excited about this. If the Spektrum gave me an RSSI reading, I would have been able to better troubleshoot my connectivity issues.
Is Spektrum build quality better?
No. I've always been a little disappointed in my Spektrum DX6. Many of the switches were loose from the factory, and no matter how often I tighten the retaining nuts, they eventually start slipping again.
All the switches on the Taranis X9D Plus are rock solid. Why can't Spektrum get this right? If I'm paying $30 or $40 more for ten fewer channels, the least they can do is tighten everything up before it leaves the factory!
I do have to give Spektrum credit for the beefy antenna housing on the DX6. It is a big, solid lump of plastic. There's no way you'll accidentally break that thing. I do hear that people often end up breaking the antenna on their Taranis X9D+ radios.
The Taranis antenna may be more fragile, but it gives you the option of aiming the antenna—the Spektrum DX6 antenna is fixed. When I had signal quality issues with the Spektrum DX6, the only thing I could do is reorient the radio in the hope that it would improve my situation.
Future upgrades
I say these are future upgrades, but I'm impatient, and I already ordered all these parts.
I'm matching two of the upgrades from the [Taranis X9D Plus SE][xd9se]: the M9 hall-effect gimbals and the removable antenna. I'm using an RP-SMA connector instead of SMA. Most 2.5 gHz Wi-Fi antennas are RP-SMA. They're more readily available, and I have plenty of dipole 2.4 gHz RP-SMA antennas around the house.
I'm going to be missing out on the upgraded switches of the Special Edition, but I'm not too worried about that. I'll also be running the plain, boring, stock Taranis X9D+ shell—I may decide to paint it! To make up for that, though, I'm adding putting in two additional mods.
The X9D+ has the electronics inside to support one more switch. I'll be using the 6-position rotary switch. I have no idea what I'll use it for, but it only costs $10, so I may as well add it while I have the case open!
I also ordered a larger speaker. It is supposed to make the audible alerts more clear. It is a cheap upgrade, and I'll be in there anyway!
Conclusion
I'm extremely happy with my switch to the Taranis X9D Plus. The connection to my drone is more reliable and I finally have an RSSI readout in my goggles.
If you're thinking about buying into the Spektrum ecosystem, I would strongly encourage you to look elsewhere. I've been telling myself things likes, "This is good enough," and "This is almost as good as a Taranis!" for months. The Spektrum DX6 wasn't good enough. It wasn't as good as a Taranis.
Amazing FrSky receivers cost half as much as a good Spektrum receiver, and they're super tiny.
I've easily matched all the functionality of my Spektrum DX6 and then some, and I'm only just scratching the surface. All my VTX modules are too old for this feature, but I'm looking forward to being able to configure my channel and transmit power from my Taranis. I'm also looking forward to learning just what OpenTX's Lua scripting allows you to do—I can't wait to write some Lua!
Did you make the switch from Spektrum? What made you change ecosystems? Are you flying racing quads near Plano, TX? Leave a comment, or come chat with us in the drone channel on our Discord server!