NOTE: If you already own a KingKong 90GT, then I hope this information is of use to you. If you're thinking about buying a KingKong 90GT, your money can be better spent elsewhere. It has been almost a year since I bought my 90GT. Newer, better, faster, cheaper micro quads are now available. You should read about my experiences with the Leader 120. It is a much faster, more durable quad. It has a better camera, more powerful motors, and it costs a lot less than a 90GT!
I've been flying quadcopters for quite a few months now, and I've been practicing flying in first-person view for almost two months now. I can't fly my PH145 or Shuriken 180 Pro racing drones at home—they're both too big and too fast, so I started shopping around for an FPV micro drone. I hoped to find something similar to my Blade Nano QX, but this time I wanted it to have a camera.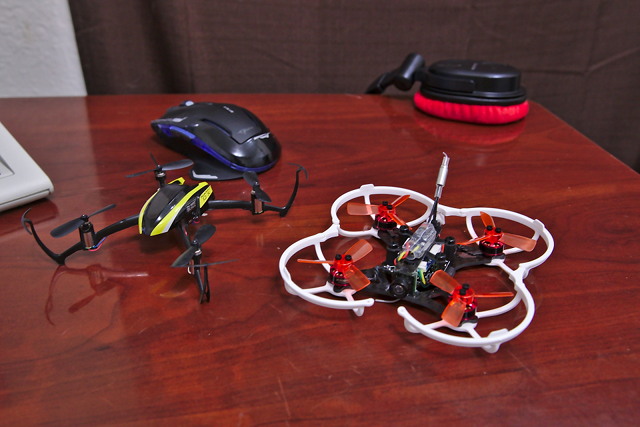 It didn't take long before I learned that there are now brushless micro drones. Some are even smaller than the Blade Nano QX! The first one that caught my eye was the Jumper X73S. It uses inexpensive 1S LiPo batteries, is smaller than the Blade Nano, and it ships assembled and ready to bind to your controller and FPV goggles for less than $100.
The Jumper X73S also happens to be a piece of junk. My friend Brian has been flying quadcopters line-of-sight longer than I have, and he wants to start flying FPV. He ordered the Jumper almost immediately after I informed him of its existence. The props on the Jumper are press fit, and they just won't stay on. He never got a good flight out of the Jumper, and the handful of prop-related crashes he had broke a VTX power wire and caused one of the motors to stop spinning.
I didn't want to buy the same micro FPV drone as Brian, so I did some more research. I ended up ordering a KingKong 90GT from Gearbest, and I did so before Brian's Jumper even arrived. I unintentionally dodged a bullet there!
The KingKong 90GT is a fantastic little drone, and everything about the design is an improvement compared to Brian's Jumper X73S. As soon as I let Brian fly my KingKong 90GT, he went home and ordered his own!
The Specs
Carbon fiber frame
1103 7800KV motors
3A ESCs (with DSHOT!)
F3 Flight Controller with BetaFlight (with a 4KHz PID loop!?)
350 mAh 2S LiPo (4 minutes of flight time)
800TVL 150 degree CMOS Camera
25mw VTX, 16 channel
DSM2 or FrySky receivers available
Why not buy a cheaper drone with brushed motors?
Brushless motors are both more powerful and more durable than brushed motors. Brushed motors have a lifespan somewhere between five and twenty hours of flight time. It sounds like a lot of time, but I've replaced quite a few motors on my Blade Nano.
Brushed motors last a long time. On this tiny drone, I expect them to last forever. I doubt very much that I can crash hard enough to bend them!
The KingKong 90GT is bananas
The KingKong 90GT is so much fun. It is light enough that I can safely fly it around indoors, but it still has more than enough power to fly outside in heavy winds. The first day I took it out to a park, we were experiencing 20 MPH winds—you can easily see how windy it is in the video below! It took quite a bit of tilt to maintain position against that wind, and I didn't expect to be able to fly well at all—the Blade Nano QX wouldn't have been able to hold position in that wind.
To my surprise, I just had to tilt a bit more and hit the gas and I was flying directly into that wind with quite a bit of speed! I don't yet have the skill to do much more than fly around in circles in heavy wind, but I was excited to be able to do even that. The wind was strong enough that I had to lean into it when I was standing up, and I am far from a lightweight!
A few days later, I turned up the RC rates so the 90GT would match the responsiveness of my PH145 and Shuriken 180 Pro quadcopters, and we took it out to Oak Point Park in Plano. I had no trouble doing rolls and flips. It performs them quickly, and it feels crisp—it is quite an acrobatic little drone!
I did some punch outs and captured some blackbox data that day. The KingKong 90GT peaks at about 2.65g, but quickly peters out to about 1.6g by the end of the punch out. It may not match the 3.2g of the PH145 or the 4.2g of my Holybro Shuriken 180 Pro, but it doesn't have to. It has more than enough power for its size, and it's so much fun to fly!
Which batteries should I get? How long does it fly?
Even while constantly fighting those strong winds that first day at the park, it still managed to fly for almost exactly four minutes on the stock 350mAh battery. I bought four more similar 350mAh 2S batteries, and they all last four minutes on just about every flight I take.
I have a 450mAh 2S battery that keeps the 90GT in the air for just over five minutes. I also bought a 1000mAh 2S battery. I just had to try it, because it cost less than the 450mAh, but it is just too heavy for the KingKong 90GT. I can get off the ground, but it takes a lot of throttle just to hover.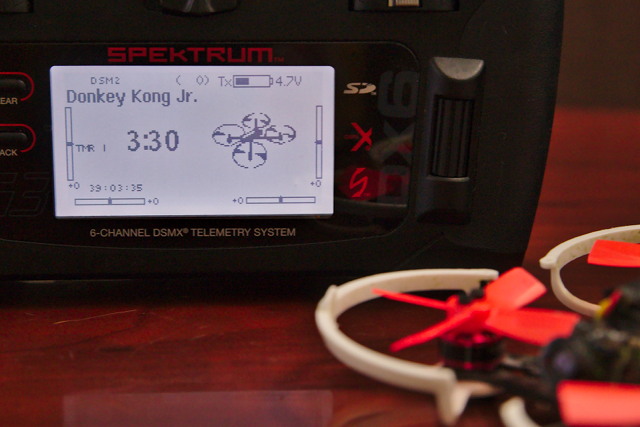 If I could find a good deal on 450mAh batteries, that's what I'd prefer to run. At Amazon, I can get a two-pack of 350mAh batteries for the same price as a single 450mAh. I may have to change batteries more often, but that's a lot more flight time for the money, and the drone feels zippier with the lighter battery!
If you're already involved in the hobby, you already know you'll be disappointed with just a single battery. Each battery will only keep you in the air for four minutes, and it will take 30 to 60 minutes to recharge. That's just too long to wait between flights, and I usually go through four or five batteries every time I go to the park.
But I already have a racing drone!
It doesn't matter if you already have a nice racing drone. The KingKong 90GT is small, quiet, an unobtrusive. You can get away with flying a micro drone in places where you'd be a nuisance with a loud, fast, dangerous racing quadcopter.
I was flying my Holybro Shuriken at a park recently. There's a secluded, tree-filled spot that I enjoy flying in. It is far enough out of the way that I'm usually alone, and I don't bother anyone. After flying two batteries, several people showed up and started tying hammocks to the trees!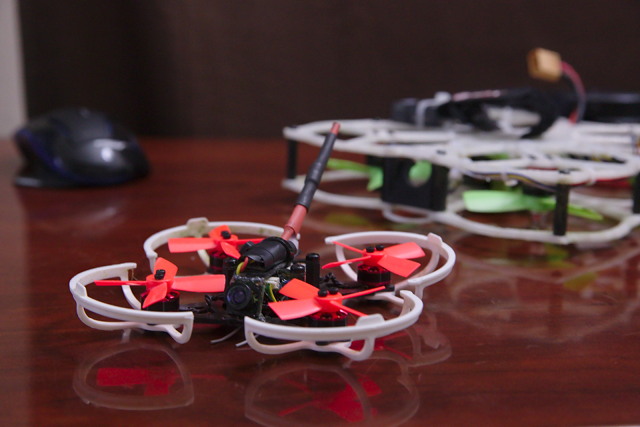 If I didn't have the KingKong 90GT with me, I'd have had to find another spot to fly or be an annoyance for these folks.
I spent my last twenty minutes at the park flying the 90GT, and I had a great time!
I'm new to quadcopters, and I don't have a transmitter!
The transmitter is the controller you hold in your hands when flying a quadcopter. We refer to it as a transmitter so as not to confuse it with the flight controller board on the aircraft. The transmitters talks to a small receiver board located on the quadcopter.
The KingKong 90GT is available with a Spektrum compatible DSM2 receiver, a Taranis Frysky receiver, or no receiver at all—you'll have to supply your own in that case. If you don't have a receiver, you're probably looking for advice on what to buy.
I use a Spektrum DX6 transmitter. It is a fantastic piece of hardware, and I have no trouble flying all my drones using this transmitter. It is user friendly, but it is expensive for a 6-channel transmitter. I almost upgraded to a Taranis X9D transmitter like my friend Brian, but I wasn't excited about the idea of buying two or three replacement receivers and wiring them in to all my quadcopters!
If I could do things over again, I would definitely start with a Taranis X9D Plus or Taranis Q X7. They're better transmitters, they have 16 channels, and they cost less than my Spektrum DX6. You should definitely read what my friend Brian said about his upgrade to a Taranix X9D Plus.
You can save even more money with a Flysky transmitter. I had a chance to use one last week, and it felt just fine. Unfortunately, the KingKong 90GT isn't available with a preinstalled FlySky receiver module.
The prop guards
The prop guards are great. They let you bang into the ceiling and gently bump into walls without falling out of the sky. They're quite sturdy, and I don't expect to ever break them.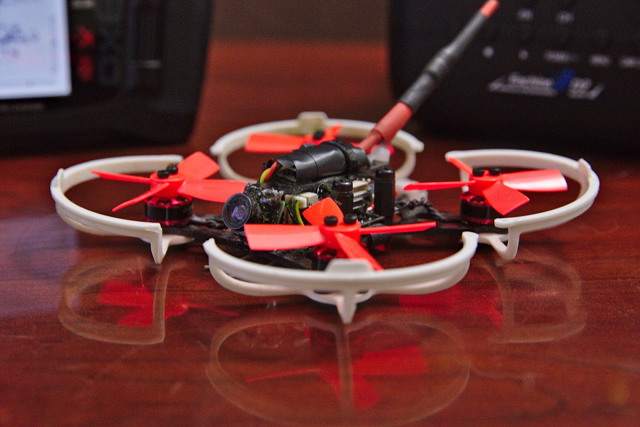 The prop guards are not installed from the factory. They're easy to install, but I think it is worth repeating what is already stated on the bag that contains the prop guards. Be careful installing the prop guards. The screws are too long and require washers. If you fail to use the washers, you might damage the windings inside the motors.
The motors are constructed using a lightweight metal. Don't "gorilla tighten" your screws—they just need to be snug!
The stock propellers are fragile!
The stock polycarbonate props are fragile. This is a problem with just about every quadcopter I've owned. The only exception is the Blade Nano QX, but it only weighs 15 grams—the KingKong 90GT weighs almost four times as much!
If you're crashing indoors, you're going to be breaking propellers. I've flown outside quite a bit, and the props almost always survive a crash into the grass.
I bought two sets of Furious FPV 4-blade props. They're definitely sturdier than the polycarbonate props that ship with the 90GT, but they're still quite easy to break when you crash indoors. I lost about 15 to 20 seconds of flight time when I put these props on.
The 4-blade props provide a small bonus. If you only break one blade, they can easily be converted to makeshift 2-blade props! This is handy, but the drone feels pretty weak with 2-blade props.
I also tried some 6-blade polycarbonate props. They seem to be available with Prime shipping more often than their 3-blade counterparts, but they dropped my flight time by 30 seconds. I'd prefer not to use them.
I managed to break the VTX antenna
Brian and I were flying at a park, and we managed to rip the end of the video transmitter's antenna. It was a pain to repair, so I went overboard with heat-shrink tubing and wrapped up the antenna really well.
I know what the first thing Brian is going to do when his KingKong 90GT arrives. He's going to cover the tip of the end of the antenna with heat-shrink tubing! I recommend that you do the same.
The FPV camera angle
The camera isn't meant to be adjustable, and it is mounted pointing directly forward from the factory. This is fantastic if you're flying around indoors or are new to FPV, but it will limit your top speed when you're flying around outside.
The camera is just glued in place using a bit of superglue. I was able to wiggle it a bit to break it free, and I used some hot glue to reattach the camera with about a 20-degree tilt. This moves the prop guards out from the center of the frame, and it makes it more fun to fly the KingKong 90GT outdoors.
If you mostly fly indoors, I would recommend leaving the camera where it is.
The verdict
If you're thinking about picking up a KingKong 90GT, you should stop thinking and start buying. I am having a ton of fun with this sturdy little drone! It works well indoors and outdoors, and it can be flown in situations where a big, loud racing drone would be inappropriate.
You get a lot of drone for your money. It costs more than a simple Blade Nano QX, and you can spend a little less on a Tiny Whoop or QX90 with an FPV camera, but you're getting a lot more quadcopter for your money with the KingKong 90GT.
A small update
Not long after publishing this, I was pointed at a handful of other brushless micro drones. They all look like a ton of fun, and most of them are both more powerful and more expensive than the KingKong 90GT. Drones like the ARFUN 90, the Blade Torrent 110, and the Airblade Creampuff.
The ARFUN 90 only costs a bit more than my 90GT, and it should offer a little more thrust and it has an OSD—it is a tempting little drone for just a bit more cash! The Airblade Creampuff looks completely bananas, and I've heard of people building it with relatively huge 1105 motors!
I would very much enjoy flying the Airblade Creampuff, but I don't think it would fit well in my hanger. I like the KingKong 90GT is powerful enough to control outdoors when it is windy, but it is still reasonable to fly it around indoors. If it were much more powerful, it might not be as much fun indoors.
If it isn't fun to fly indoors, then I may as well fly one of my larger drones outdoors. My larger drones didn't cost much more than the Creampuff, but they're much faster—I just can't fly those big drones in the house!
One more update
I managed to break my 90GT's VTX antenna again. I used it as an excuse to upgrade to a more powerful VTX. I also figured out how to install larger propellers. If you think the KingKong 90GT is a little tame, you can easily upgrade the props for 30% more thrust!