I've been using my extremely inexpensive Furibee VR01 FPV headset for three months while I waited for the Aomway Commander goggles to become readily available. I'd probably still be using the Furibee headset today, but I really missed having a DVR. I also wanted to tidy up my drone backpack, and I knew a smaller set of goggles would go a long way towards that goal.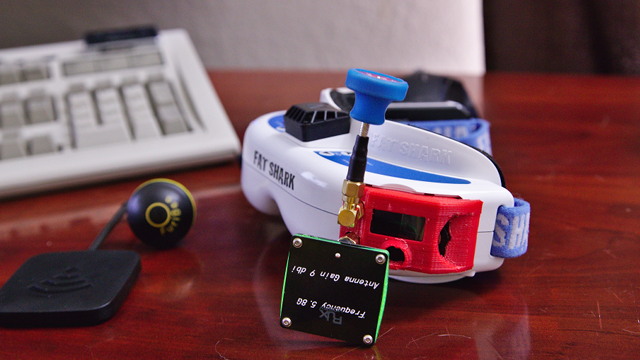 I bought a set of Fat Shark Dominator goggles and an Open Source RX5808 diversity module made by RJX Hobby. I added a compact patch antenna and a stubby pagoda antenna. The whole setup cost about $450. This is a big step up from my $50 headset!
Of course, the Aomway Commander goggles seemed to show up in stock everywhere about a week after my Fat Sharks arrived. Some friends have them already, and I have to say I'm more than a little jealous. They saved a lot of money, and they may have gotten the better headset!
The tiny field of view
Compared to any box-style headset, the Fat Shark goggles have the field-of-view of a postage stamp. My Dominator V3 goggles have a 32 degree field of view. The most expensive Fat Shark goggles top out at 45 degrees, but the reviews say those 45-degree Fat Shark goggles get blurry near the edges.
I can't find the specs on my Furibee headset, but the Internet says my old Eachine EV800 goggles have an 82-degree field of view. I know the Furibee VR01 isn't quite as wide, but it shouldn't be far off.
Many people prefer a larger display, and I wasn't certain I would enjoy making this transition. It is a different experience to say the least!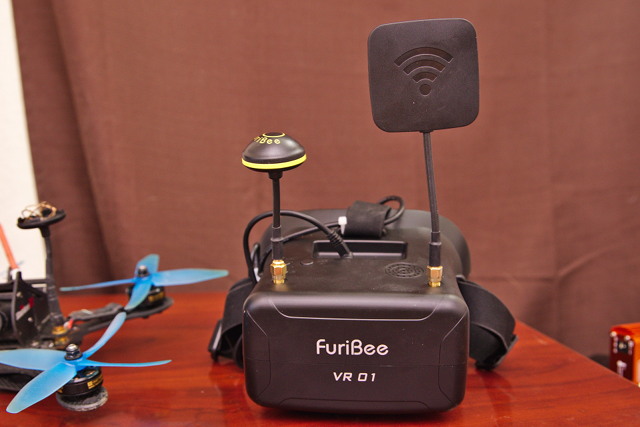 I tend to fly in closer to the ground when I'm coming in for a landing. In fact, I was bouncing off the ground during most landings at first. I was used to the ground being a lot farther away from the center of the screen!
I noticed right away that it is much easier to execute front or back flip. The ground seems to come into view sooner. When using the bigger goggles, the edges of the screen are at the boundaries of your peripheral vision—you have to move your eyes downward to focus on the ground.
With the 32 degree Fat Shark goggles, your primary vision can take in almost the entire display. You can see the ground coming back into view towards the end of a flip without looking down.
I'm seeing this as an advantage, and I believe the Fat Shark Dominator goggles have made me appear to be a better pilot!
Fat Shark goggles are awesome!
If you can handle the tiny field of view, the Fat Shark goggles offer an amazing flying experience. The picture is clear. The RealACC diversity receiver is amazing, and its range fantastic.
The goggles are sturdy and well made, and supposedly the warranty and post-warranty support from Fat Shark is top notch.
The Dominator V3 goggles are comfortable enough. It is also nice to not have a giant box sticking out of my forehead when I lift the goggles up. They're not terribly comfortable when you raise the goggles above your eyes to see the real world. Something in the center pushed right into my forehead. If I raise them a little higher this isn't a problem, but then they feel like they're going to pop off my head.
Fat Shark goggles are also terrible!
Flying in the Fat Sharks is fantastic, but the user experience is far from ideal. Aomway addressed most of my complaints about my Fat Shark goggles.
You have to plug in one cable to power the goggles and a separate cable to power the fan. It is my understanding that the goggles can handle more voltage than the fan. Why couldn't Fat Shark include a ten cent voltage regulator? Aomway did a good job here—they only need one power cable for their goggles.
Using a separate module for the receiver is a great idea, but the receivers aren't user friendly. All the nice receivers have a display, but it is on the outside of the goggles. You can't see what channel you're on, which antenna you're using, or how much signal you have unless you take the goggles off and check the display.
Aomway has improved some of this. Their goggles show your current channel and battery voltage on the display. Aomway also has an on-screen indicator for the DVR instead of that stupid, tiny red light that the Fat Sharks have.
Unfortunately, the Aomway Commander goggles don't show your signal strength on the display. This is something that the Eachine VR D2 Pro goggles do well.
Aomway Commander V1
If I waited a few more weeks, I probably would have bought the Aomway Commander goggles. I would have saved myself almost $150, and many of my complaints about the Fat Shark Dominator V3 goggles aren't present in the Aomway goggles.
The Aomway Commander goggles have diversity receivers built in, so there is no need to buy a seprate module! I've been burned by crummy diversity modules in the past, so this worried me. Then I checked out Joshua Bardwell's diversity module shootout video, and I decided to stop worrying. The Aomway goggles perform more than adequately against the La Forge and RealACC diversity modules.
I only have one real complaint about the Aomway Commander goggles. They have no indication of the signal strength of each receiver, and they don't tell you which antenna is active. The readout on my RX5808 diversity module is far superior. I just wish that readout was on my screen!
What if my vision isn't perfect?
I am near sighted, but not terribly so. This hasn't been a problem in any of the box-type headsets that I've used.
Fat Shark goggles are different. They use fancy optics to make a tiny LCD panel look like a large display sitting out in the distance. The farther away things are, the more blurry they appear to me. I have a lot of trouble reading my on-screen display in Fat Shark goggles.
You can order a set of custom diopters that match your prescription. I'd like to do that in the future, but I'm overdue for an eye exam. I opted to order the inserts made by Fat Shark. You get a pair of -2, -4, and -6 diopters for around $15.
I'm certain that my existing prescription is a little stronger than -2. I tried the -4 inserts, and they're too blurry. The -2 are quite close, and they work well enough for now.
Which receiver module should I buy?
The less costly diversity modules don't cost much more than a basic receiver. Buying a diversity module is a no-brainer, but which diversity module should you buy?
The La Forge diversity module is the top-of-the-line receiver module for your Fat Shark goggles. My friend Brian uses one, and it looks like a fantastic piece of hardware.
I opted to go with the Open Source RX5808 diversity module made by RJX Hobby. The RX5850 diversity module is half the price of the La Forge V2 module, but cost wasn't the primary influence behind my choice. I wanted to upgrade my goggles, and I wanted my upgrade as soon as possible. The La Forge wasn't available with Prime shipping from Amazon, and the RXJ Hobby diversity module was. That was more than enough to tip the scales in favor of the cheaper module!
The La Forge diversity module is a fork of an Open Source RX5808-based receiver. The RJX Hobby module is built to the specs of the Open Source project, while the La Forge fork is heavily modified.
The firmware for the Open Source receiver has been lagging behind the La Forge until recently. The Achilles firmware for the RX5808 receivers seems to have closed that gap. Unfortunately, it is often difficult to flash the new Achilles firmware.
I tried a few times and gave up. I'm running the stock firmware on my RX5808 module for now. It is more than adequate for my needs. I figure I'll attempt upgrading the firmware on a rainy day!
The La Forge takes up both module bays on your Fat Shark goggles. In theory, separating the antennas like this should be an advantage. In practice, I'm not sure that it is noticeable. I prefer having both antennas on the same side of the goggles. It seems more clean and compact.
I've written a lot, but I haven't answered the question. Which receiver module should I buy?
The only two modules I considered were the La Forge v2 and the RX5808 module from RJX Hobby. I wouldn't be unhappy if I spent a few more bucks on the La Forge module, and I am extremely pleased with my RX5808 module.
I don't think you can go wrong with either of these modules!
But the Aomway Commanders and Fat Shark Dominators are wide screen!
People that have been flying a few years seem to prefer 4:3 cameras and displays. I am not one of those people.
Most of the inexpensive, starter FPV headsets are widescreen. All my headsets have been widescreen, and I've done my best to buy widescreen cameras. My first, cheap FPV camera had a widescreen sensor, but I believe every ready-to-fly drone I have has shipped with a 4:3 camera.
I don't find it disorienting flying with a 4:3 camera on a 16:9 screen—these wide-angle lenses are already distorting the image quite a bit! That said, things look much better when you pair a nice 16:9 camera with your 16:9 display.
I'm using a 16:9 Runcam Eagle 2, and I'm extremely pleased with the results. It is a huge upgrade over the Sony HS1177. I like flying towards the sun at the end of the day and still being able to see the ground, trees, and gates!
Carrying your goggles
I wasn't just shopping for a goggle upgrade. I want to save space in my drone backpack. There's plenty of room in there for a set of Fat Sharks. I can't just throw the goggles into a soft backpack with the antennas attached, and I don't want to have to spend time attaching and detaching antennas every time I fly.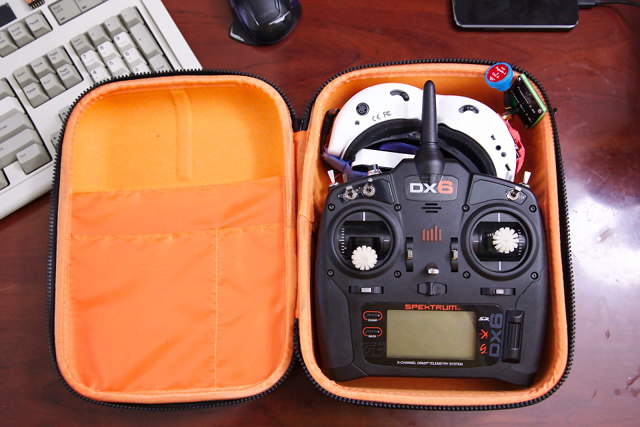 I bought the Turnigy transmitter carrying case. The case is just barely big enough to hold my Spektrum DX6 and my Fat Shark goggles. I have to wiggle the goggles into place just right in order to fit them in place with the antennas still attached, and I have to rotate my Pagoda antenna out of the way.
The Turnigy case has been an excellent upgrade. It fits perfectly in the large pocket of my off-brand tactical backpack, and there's still enough room at the top of that pocket for two 6-packs of LiPo batteries.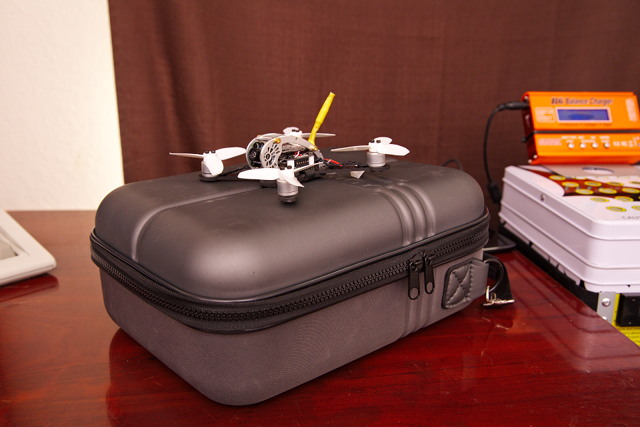 I can also strap one of my micro drones to the Turnigy case and leave my backpack at home. There's plenty of room in the case to hold all my micro-drone batteries, so I can pack light when I'm flying light!
Conclusion
This was a good upgrade. I'm confident that I would be just as pleased with the Aomway Commander V1 goggles as I am with my Fat Shark Dominator V3 goggles. If I bought the Commanders, I bet that this blog post would be pointing out all the weird deficiencies I found in their design!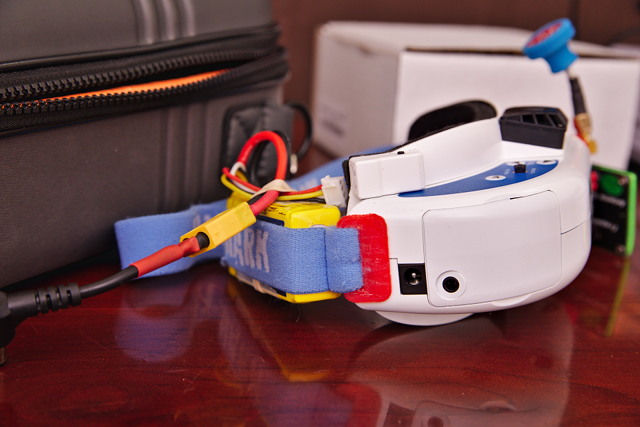 Starting my FPV journey with an $80 box headset was definitely the right choice. The money would have been better spent eight months ago on a spare drone than a pair of Fat Shark goggles. At the time, I had no idea I would enjoy the hobby as much as I do!
If you're just starting out, I highly recommend trying an inexpensive box-style headset like the Furibee VR01. You won't regret having a spare headset later on.
Upgrading to Fat Shark style goggles was most definitely the right choice for me. My drone bag is lighter and more streamlined, and my unpacking and repacking experience in the field has improved quite a bit. It is also nice having a smaller case to take with me when I'm only flying micro drones!
I'm having a great time using my Fat Shark goggles, and I'm not turning back.